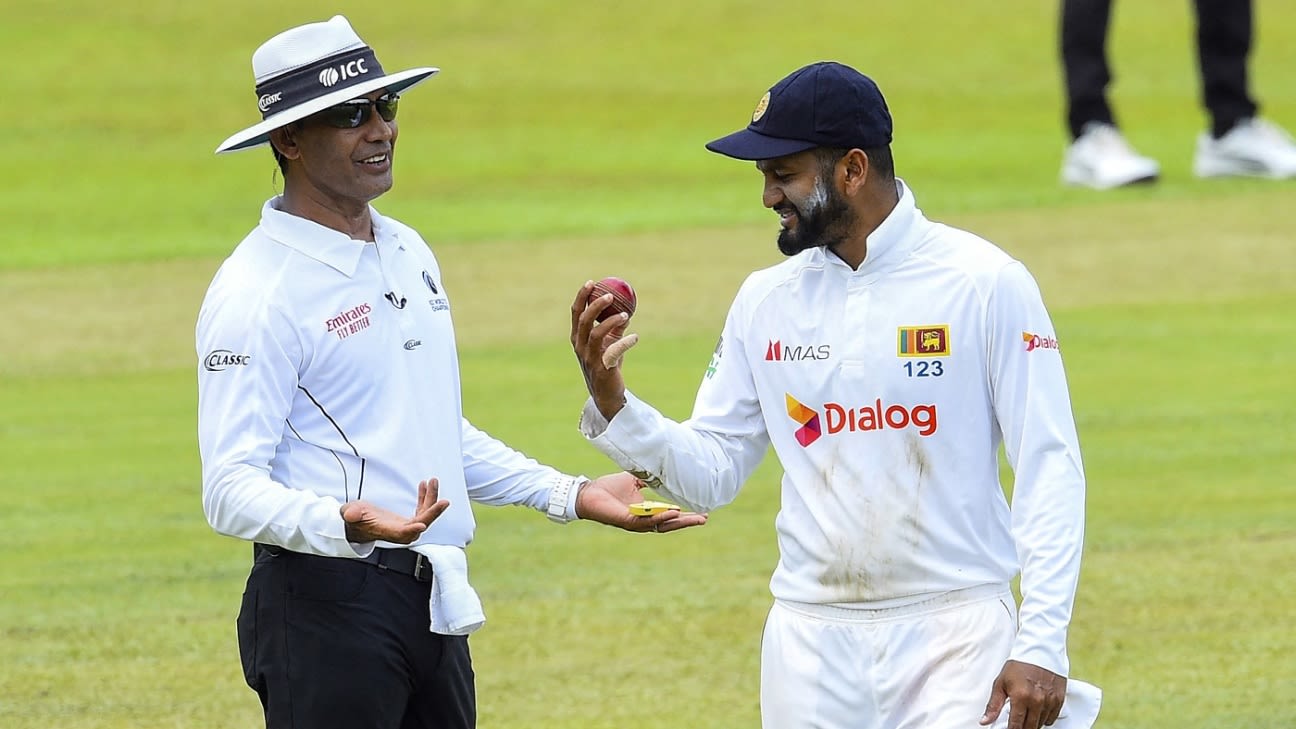 It is often said that a Test pitch should not be judged until Sri Lanka has had a chance to fall on it. But unless the surface changes drastically over the next day, this pitch seems to prevent a fall even for this Sri Lankan, who unveils a new monument to bat an incompetence once every Test (in their last 12 punches, they've all been out for less than 200 five times).
Early on day one, the ball hardest, the freshest (and springiest in general), wicket keeper Niroshan Dickwella collected the ball at knee height and below. Batters played and lost occasionally, but not often, with little movement available either off deck or in the air. Even if there had been margins, there was a decent chance they would have bounced before a catch behind the wicket could be claimed. By mid-morning, batters were pulling and grabbing Lahiru Kumara's 140kph-plus bouncers in front of the square.
All this on the greenest Best Test pitch seen in Sri Lanka in at least five years. In South Africa, the surfaces of this toner are called green mambas – the ball, jump, spit, bite off. On day one, this field was so lame that it was more like green earthworms, the kind that reproduce asexually and live its whole life in the dark, probably in its parents' basement.
So how has Sri Lanka wound up with what seems, for the time being, to be a dude from a surface? Aren't the fields of the island supposed to be dexterous on day one, treacherous on day three, unplayable on day four? (No equal game has been played out on the island since 2014.) And, uhhh, aren't the Sri Lankan fields swinging, usually? Turn so much that sailors are often dismissed?
After playing on day one, Sri Lankan batting coach Grant Flower said the surface didn't offer as much as Sri Lankan sailors had hoped for. So much of this was already clear. But he also said that Sri Lanka had broken tradition and gone for a greener field in order to "give our sailors a chance for change". Basically, Sri Lanka felt that their best chance of victory lay with their quizzes, each averaging over 35. Another way to put this; Sri Lanka's spin stocks are so depleted for this series, that the steam attack suddenly emerges as their main weapon. Their only viable weapon?
We might have seen a drier face if left-arm spinner Lasith Embuldeniya had been fit for this series. Yes, he only has 11 Tests on his ledger, and that average in the high 30s certainly doesn't suggest he's a villain you can hang your attack on. But still, in his final series at home, Embuldeniya claimed 15 wickets in two Tests. Increasingly, Sri Lanka seems to trust it to develop a certain victory. But then, the moment he is injured, boom! That's enough of this dusty stuff. Please roll out the green carpet. What does this say about the rest of Sri Lanka's spin stocks? It can't be much, right? Their specialist spinner in this fight is Wanindu Hasaranga, and he is far from becoming a leg-winner who reliably threatens to wicket. Dhananjaya de Silva is there as support, but he is rocking modest part-time numbers at the front of the Test.
It seems that Sri Lanka lacks the kind of world-class spin bowling weapons that kept even Herath out of the national side for almost ten years. So terrible has it all come that they have, in this Test, banked on a vein and wound up with an unwanted pitch
Elsewhere in the squad, Sri Lanka has one other frontline spin option: 22-year-old left-arm spinner Praveen Jayawickrama, who has played all ten first-class matches. He was selected because another uncapped slow left-back, Duvindu Tillakaratne, was injured and another – Prabath Jayasuriya – failed a fitness test. In an 18-member squad for a home Test series, these are the spin options that Sri Lanka has distanced itself from – a list so bleak, it would have been almost unimaginable even five years ago. This is the nation of Muttiah Muralitharan and Rangana Herath; of flying, dipping, spinning and catchers milling around batter like vultures around a carcass they are about to destroy. If there is one area where Sri Lanka should have a reliable production line, what else than this?
If this surface becomes as docile as it threatened to be on day one, add it to the list of crimes for which Sri Lanka's domestic system is responsible. Although slow bowlers dominate first-class cricket, their pile of wickets often come against hapless batsmen, on furious lines of one's ball. Against better batters, who have to bowl longer spells, and defeat them with deceit and subtlety rather than just with the help of the surface, Sri Lankan spinners tend to struggle.
Coach Mickey Arthur spoke about this in an interview this week: "Some [domestic] performances are slightly amplified, so for example when turning wickets, a man may get a batch of five-fors, but that does not necessarily mean he has the weapons to walk in and be a player good international. Yes, he has the ability, but does he have what it takes to transition? I'm talking about skill level, fitness level, and the ability to take the pressure and scrutiny that comes with international cricket. "
In the last few years, Sri Lanka has gone through spin options: Tharindu Kaushal went into decline when his doosra was banned, Malinda Pushpakumara appeared only a fraction as effective in international matches as he is in domestic, Lakshan Sandakan is not cracked Tests despite that. has been around for five years, and Dilruwan Perera has gone into what could be his final demise. It seems that Sri Lanka lacks the kind of world-class spin bowling weapons that kept even Herath out of the national side for almost ten years. So terrible has it all come that they have, in this Test, banked on a vein and wound up with an unwanted pitch.
Andrew Fidel Fernando is ESPNcricinfo's Sri Lanka correspondent. @afidelf