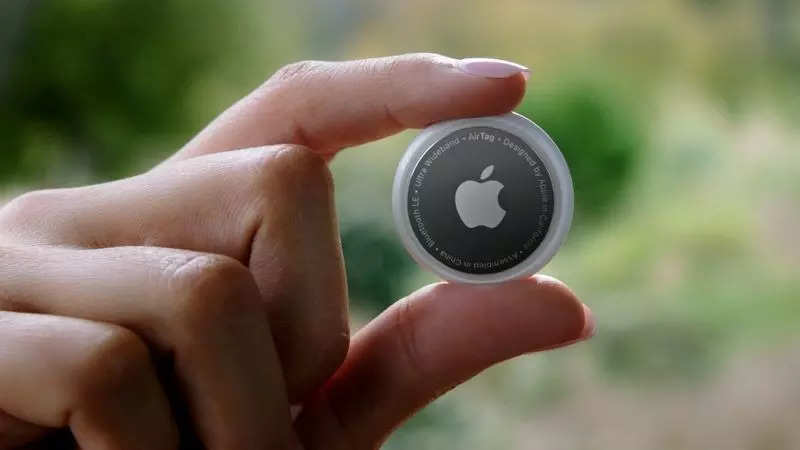 Apple has just launched its cheapest gadget ever – AirTag. It is a small device that is supposed to be attached to important items such as bags, keys or valuables that you cannot afford to lose. And even if you get lost, the AirTag can be used to track the exact location. AirTag Apple is launching in India at a price of Rs 3,190 for a single tracker. A package of four Apple AirTag trackers costs 10,900. You can use four different AirTag trackers to connect to four different objects like keys, wallet, backpack or any other important item you may be carrying.
Apple AirTag works with just iPhone
You need to have an iPhone to use the AirTag. This tracker does not work with Android phones. Having said that you can use an Android phone with NFC to alert the AirTag owner if you happen to find a lost AirTag.
For exact location, you may need to use iPhone 11 or iPhone 12 series models. AirTag comes with a U1 chip using Ultra Broadband technology and if you enable Precision Detection on iPhone 11 and iPhone 12 users then you specify the distance and direction to lost AirTag when in range.
"As a user moves, Precision Finding blends input from the camera, ARKit, accelerometer, and gyroscope, and then guides them to AirTag using a combination of audio, haptic, and visual feedback," according to Apple.
Who should buy an Apple AirTag
Note that AirTag is not the only tracker you can use. There are different trackers of Tiles that cost similar but work with iPhone and Android phones. So if you ever decide to move to an Android phone then your AirTag trackers will be of no use. The purpose of Apple AirTag is primarily to find things that can easily get lost. Also, you can hide one in your car or attach one to your laptop, so you can track the location if it is stolen.
Apple AirTag offers one year battery life, has its own speakers
AirTag is alleged to offer a year's worth of battery life with daily use. It is powered by a CR2032 removable battery. CR2032 batteries are easily available in the market for as little as Rs 30 a piece.
AirTag is dust and water resistant and comes with its own speaker. You can activate the speaker to play audio while searching for the AirTag if you wish. It works on Bluetooth LE and offers support for Siri as well. You can call Siri on your phone and ask him to find a specific AirTag.
Here's how Apple AirTag works
After installing the AirTag, it will appear in the new Items tab in the Find My app. You can mark different AirTag trackers like keys, wallet, files, etc. You can look at the current or last known location of the item on a map. If you happen to misplace the item with AirTag attached and it is within Bluetooth range, you can use the Find My app to play audio from the AirTag to help locate it. You can also ask Siri to find the item, and AirTag will play audio if nearby.
If the AirTag is separated from your owner and out of Bluetooth range, the Find Me network can help track you. The Find My network can detect Bluetooth signals from a lost AirTag and pass the location back to its owner.
You can also enter AirTag in Lost Mode and find out when it's in range or located by the Find My network.
"If someone finds a lost AirTag, they can tap it using their iPhone or any NFC-enabled Android phone and take it to a website that will display a contact phone number for the owner, if they have provided it one, "said Apple.
AirTag includes support for the accessibility features embedded in iOS. Advanced Detection using VoiceOver, for example, can direct blind or low vision users to AirTag with instructions such as "AirTag is 9 feet away on your left," he added.
You can use Android phone with NFC to detect lost AirTag:
In the event that you find a missing item with AirTag attached, here's what you can do:
-Take and hold the top of your iPhone or NFC capable smartphone to the white side of the AirTag.
-Take the notification that appears. This opens a website that provides information about the AirTag, including its serial number.
-If the owner identified it as missing, you may see a message with information on how to contact the owner. You can contact the owner to let him know that you have found his AirTag.
FacebookTwitterLinkedin
---