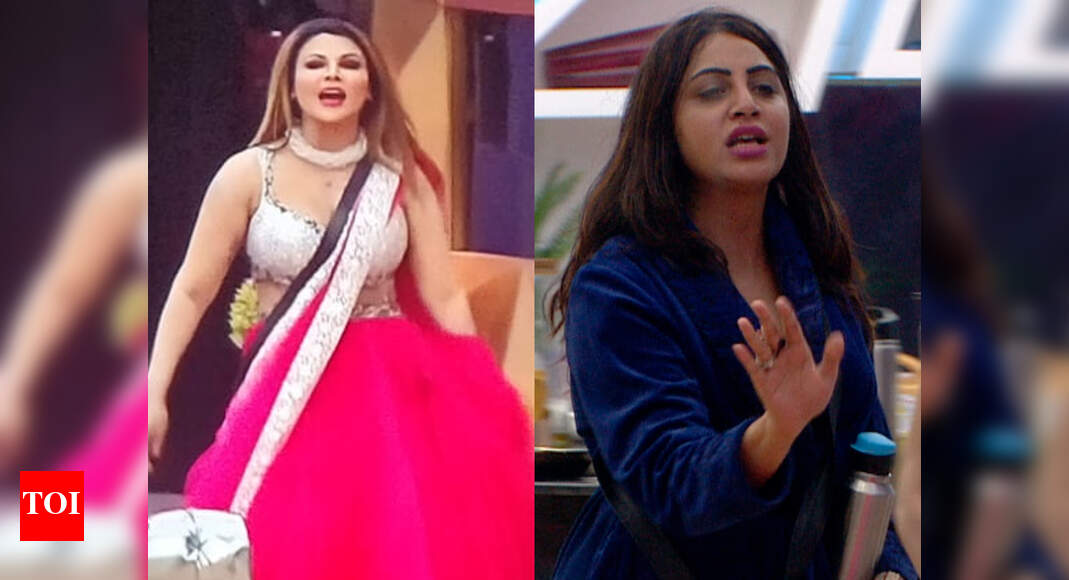 In the latest episode of Bigg Boss 14, Rakhi Sawant makes a grand entrance and begins his fight with Arshi Khan.
Arshi collides with a fiery Rakhi and the latter bombards her with her choice of words. Just as Vikas and Arshi start a fight, Rakhi intervenes saying that he shouldn't fight her and break her fake nose. Rakhi tells Vikas: "Don't fight Vikas, you will break her nakli naak. She is completely nakli (fake), she is Shilpa Shinde. She is copying it all the time. Arshi is nakli from top to bottom. "
Arshi adds: "You also have nakli naak. Yes, I am Shilpa Shinde. She is highly respected. "Rakhi says," Yes, we both had nose surgery, lip surgery. "

Rakhi says, "No one can mess with anyone in this house. I'm here now."
They are still called 'chudail' and Rakhi calls Arshi 'Sasti chudail' and also 'Tere muh is crowned nikal raha hai'. She says, "I am the corona vaccine. Mujhe dekh ke crown bhaag jayega ".
Later, they all sit in the dining room, where Nikki Tamboli talks about her brother having a hip replacement. Rakhi seems surprised and wonders if such a thing happens. Rahul tells him not to think about it.
Rakhi suddenly adds: "I'm not thinking about that. But Arshi ka kam karao. He has a sofa on his back. Don't you know why she always wears a nightgown? To hide the sofa ".
Arshi was seen telling Kashmera that she did not react to Rakhi's embarrassing words because she will not use them on television.