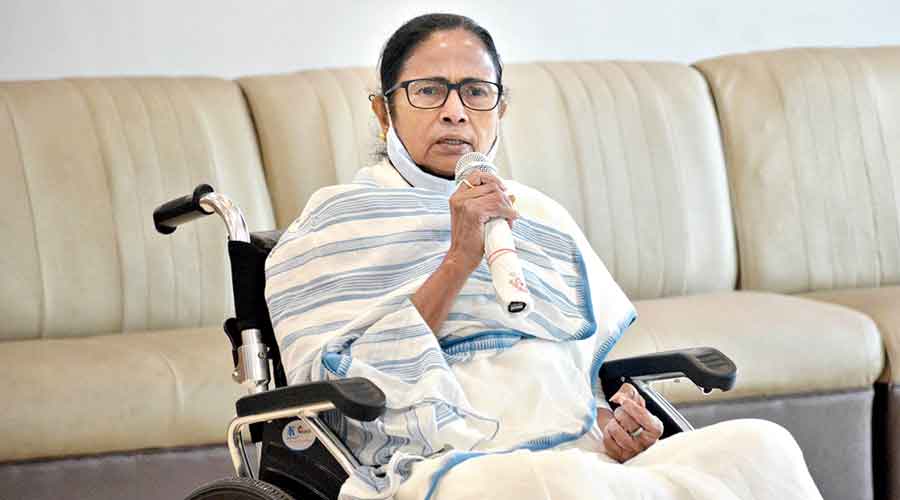 Mamata also asked them to open more satellite units where patients with mild symptoms can be admitted
---
---
Chief Minister Mamata Banerjee on Wednesday asked private and state government hospital officials to increase the number of Covid beds. He also asked them to open more satellite units where Covid patients with mild symptoms can be admitted, some of those who attended the online meeting told Metro.
Mamata asked senior state government officials to ensure there was no shortage of oxygen in the state. Officials will have to make sure that no one loses oxygen or sells it at a higher price.
The state government on Wednesday identified several critical areas of Covid's management such as facilitating hospital admissions, availability of ambulances, increasing hospital beds, creating new satellite facilities and funerals. Senior government officials have been entrusted with ensuring that all these facilities are delivered and operating smoothly.
During the meeting, state government officials told the prime minister that the state had 11,000 Covid beds on Wednesday.
"The prime minister told us about increasing the number of beds. He told us to keep the commitments we made on increasing beds. When the chief secretary told her that we had promised to add beds within a week, he said he would speed it up and complete the new bed addition before that deadline, "said a private hospital official who attended the meeting.
"He also asked all hospitals, private and government, to establish more satellite facilities so that patients with mild symptoms can be treated there. This will keep many hospital beds free for patients who cannot do without hospital care, "said the official.
Addressing a news conference after the meeting, Mamata said safe homes should be categorized into grades A, B and C. "The grade A is for more serious patients who should be transferred to hospitals next. The B grade is for those who are lightweight. The C grade should be for those who do not have a place to isolate themselves, "he said. "Hospital beds should only be occupied by those who need it. Those who do not need to go to hospital should be at home or in secure homes. "
"Our officers will see to it that there is no problem with the availability of oxygen. They will also ensure that there is no cache of oxygen to sell at a high price, "said Mamata.
The state government has given the responsibility of supplying oxygen to two senior officials who will liaise with all stakeholders to ensure a consistent supply of oxygen.
At the meeting, the prime minister also suggested that the secure home or satellite units can also be used to detain patients who were in hospital earlier and who need a few days of observation before they can be discharged. "Many patients have no serious symptoms after a few days but are still kept in hospitals for observation before discharge. She seems to suggest that these patients can be kept in satellite units for observation once they stop having any symptom. We can discharge patients after a few days, "said an official from another private hospital.
The prime minister's meeting with hospital chiefs from Malda came via video conferencing in the wake of a rapid rise in infections and deaths from Covid-19 in the state. According to the state health department, 10,784 new Covid cases were reported in the state on Tuesday.
The increase in cases has led to the Covid bed crisis in hospitals despite many of them increasing the strength of their beds. "We have increased our Covid bed count from 110 to 161 beds with 95 critical care beds. We have commissioned 32 beds in our satellite unit and plan to increase it to 50 by this weekend, "said an official from the International Institute of Cardiac Sciences Rabindranath Tagore.
Peerless Hospital had 63 Covid beds on Wednesday, up from 40 a few days ago.