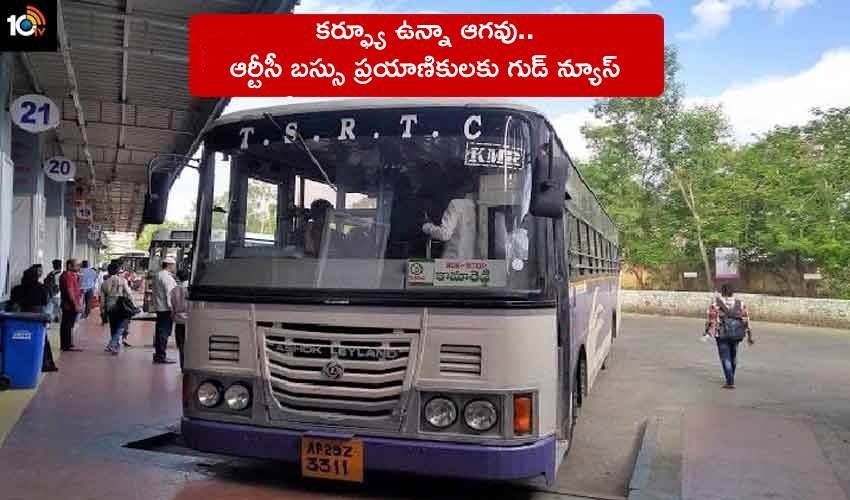 Govt Allows RTC To Run Buses During Curfew: Night curfew will come into effect across Telangana from today (April 20,2021). Everything will be closed from 9 pm to 5 am. However, the bus passengers got big relief. TS RTC buses will return to normal despite the curfew. With the government not imposing any restrictions on interstate services and imposing no conditions on public transport, the wheels of progress will turn as usual.
RTC officials said passengers can reach their destinations by showing RTC bus tickets. Travel can be made if the rules are followed no matter the curfew. RTC officials are preparing plans on how to run the buses. Buses will reach the depot around 10 pm as there is a curfew from 9 pm to 5 am, officials said.
The government seems to be on the idea that there should be no traffic after 10 p.m. While buses play a key role in public transport, there will be some effect on employees and those traveling to other areas. Those who travel mostly at night and those who work in other areas need to be alert.
Not only RTC buses but also private travels will continue as usual. So far the government has not imposed any restrictions on private buses. With this, despite the curfew, publicity will continue as usual.
Changes in Metro train times:
If this is the case with buses, then the railway authorities have made changes during the Hyderabad Metro train. The last metro train will run from Last Mile until 7.45pm. It was also revealed that the last station will be reached by Metro at 8.45 pm. The decision will take effect from today (April 20,2021) to the 30th of this month. The first train will be available as usual from 6.30 am. Metro officials advised passengers to strictly abide by the Kovid rules and use masks and sanitizers.