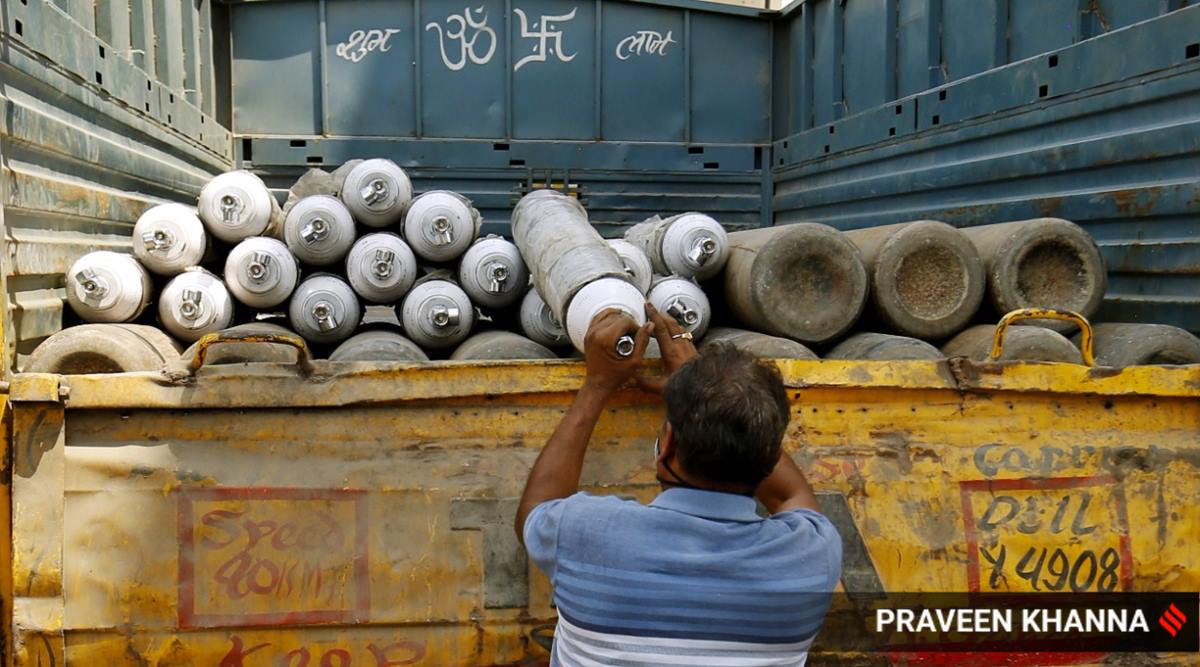 Highlighting that it is the government's responsibility to provide oxygen to medical facilities, the Delhi High Court strongly condemned the Center on Wednesday, saying that "human lives appear to be less important to the state".
"Start, borrow or steal. It's a national crisis, "said Bench Magistrates' Bench Vipin Sanghi and Rekha Palli.

"We are shocked and disappointed that the government does not seem to see the reality … What is happening? Why is the government not waking up to the reality, "the court said.
The court held a special hearing after Max Healthcare's network sought his emergency intervention, saying most of its hospitals were working at "dangerously low levels of oxygen supply".
"Every 10 days, we have doubled the number of cases (Covid-19) and the fact of the matter on the ground is that there is a shortage of oxygen and it is obvious to everyone. Not that it is artificial or incorrectly projected. It's there. We can't close our eyes on it, "the court said.
"As a state, you can't say that look that we can provide so much and nothing more, so if people die, let them die. That cannot be acceptable and that cannot be the answer from the sovereign state. We will have to enforce basic human rights and direct begging, borrowing and stealing and do whatever you have to do but you must do it. We can't see people dying, because people are dying, "the court said.
On the Centre's decision to exempt certain industries from the ban on industrial use of oxygen, the Bench said: "You have your own steel plants and petroleum industries. Why can't you cut it? Why can't you stop it? Why can't you reduce it to whatever is absolutely essential? We can understand that you cannot completely shut down petroleum production in the country because it is an essential thing in its own right, but you can reduce it. We are certain that if you divert their oxygen for medical use, you would be able to meet the requirement ".
"There's no sense of humanity left or what. What are we looking at … This is really ridiculous. You're worried about industries at this time when people are dying in thousands. One week, two weeks, your industries can wait. It is such a crisis of a serious nature. Human lives are not that important .. does that mean .. to the state? He said.
The court said it was a "desperate" situation, where "thousands" could lose their lives "because we can't provide oxygen". "We tell you that as a sovereign state, it is your responsibility to provide every tonne of oxygen required by patients in India. It is your responsibility. You can't turn around and say 'sorry, we haven't, lose your life'. We cannot accept that. You have to go a step further, "he said.
Saying that even oxygen could be sourced from industries that were producing their own supply, the court said: "If the result is that those industries have to shut down for some time, until you do arrangements alternate, so, too, because we cannot afford to lose lives. That's the bottom line ".
The Center said it had increased the oxygen supply to Delhi from 378 MT to 480 MT. "What's the point of all this paper exercise? We do not understand. If they need 700 MT … the number of patients has increased. It is no comfort to anyone that you are supplying 400-odd. We do not blame you but you must understand that it is an emergency, "the court said.
During the hearing, the court asked the Solicitor General of India Tushar Mehta whether the Center could assure him that none of the hospitals in Delhi would face a crisis situation tonight. Mehta responded that the Delhi government could provide that assurance.
Senior Advocate Rahul Mehra, representing the Delhi government, responded: "These are human lives. If it was a commercial transaction, I could have understood. How can I take that responsibility on my shoulders? My shoulders aren't that big… "
The Center recorded Mehta's assurance that the Center would facilitate the 480 MT of oxygen supply to Delhi. He also recorded Mehta's statement that the Center would ensure the safe passage of oxygen tankers to Delhi.
Mehra had told the court that only 200-250 MT could be received during the day and that Haryana had obstacles.
"We are hopeful that emerging needs at various hospitals in Delhi will be met so that no casualties are suffered due to the discontinued supply of oxygen to Covid's critically ill patients sick and other patients who need oxygen assistance until we receive the issue and pass orders. tomorrow, "the court said, adjourning the hearing to Thursday afternoon.