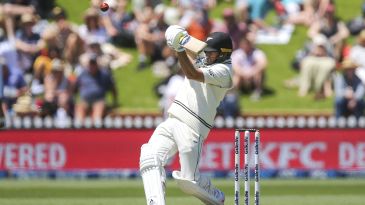 Report
Wagner attacked the predominantly short ball attack of fast players to go to lunch in 48 of 33
lunch New Zealand 422 x 8 (Nicholls 160 *, Wagner 48 *, Gabriel 3-93, Joseph 3-109) vs. West Indies
Henry Nicholls passed 150 and found excellent lower-order support from Kyle Jamieson and Neil Wagner as New Zealand advanced to a formidable first-inning total on a pitch that still has plenty to offer fast pitchers. With the West Indies outfielders continuing to put up chances, New Zealand added 128 runs to 5.12 and more during a first penalty session to go to lunch at 422 for 8.
Sixty-three of those runs occurred during an uninterrupted stop at the ninth wicket between Nicholls and Wagner, the latter pursuing the predominantly short ball tactics of West Indies fast pitchers and running 48 of 33 balls before the interval. lunch break interrupted his search for a Test-match fifty maiden. It would be the most appropriate way for Wagner to celebrate his fiftieth test.
New Zealand lost two wickets in the session, both to Alzarri Joseph, who came in immediately after the drink break and created chances with his angle from afar. Jamieson gave him a second slip, and Tim Southee kept playing, as did BJ Watling on the first day, while being squeezed for space for angle and extra rebounding.
On either side of that, it was all New Zealand though, with Nicholls adding just 43 to his score overnight, but tying the lower order together and shutting out the West Indies entirely from one end. The luck that defined his hitting on day one seemed to continue until the start of the day's play, when he outplayed Shannon Gabriel on the inside, but as the morning wore on he became more and more fluid. He picked up frequent singles and doubles in the deep fielder squad on either side of the wicket – the in and out fields Jason Holder set up for Nicholls looked a bit defensive as he wasn't actively chasing the pins, and he also deployed some attractive shots. , nothing better than a Joseph entry with a doll that was divided in half and a half.
For the first hour, Nicholls had the company of Jamieson, whose eye, solid fundamentals, and height thwarted another Test attack – he came into this inning with scores of 44, 49, and 51 * in his previous three innings at this level, with West Indies looking for the right lengths to jump into it. He looked strong on the drive and smooth on the short ball, and it took until the first over after drinks for Joseph to find the right length, straightening out a delivery that tested Jamieson's tendency to push balls up.
Three overs before that, Jason Holder had created another opportunity by inviting a back foot strike away from the body, only for John Campbell to knock Jamieson down on the second slip. It was the first of three lost sacks in the session; Chemar Holder and Roston Chase then dropped Wagner in successive overs, both on thin legs, against Gabriel and Joseph respectively, when he was 20 and 21 respectively.
There was definitely some logic in the West Indies short ball plan for Wagner, as evidenced by those missed hooks and a failed play by Joseph that earned him a hit to the back of the helmet. But in between, runs gushed out of Wagner's bat, some just outside the sweet spot, like a Joseph six and a baseball-style hit through Jason Holder's midwicket, and some off the rim, and the West Indies. they lost any appearance. control they could have had earlier in the morning, with the ninth wicket position rattling 8.21 above.
Karthik Krishnaswamy is a senior deputy editor at ESPNcricinfo