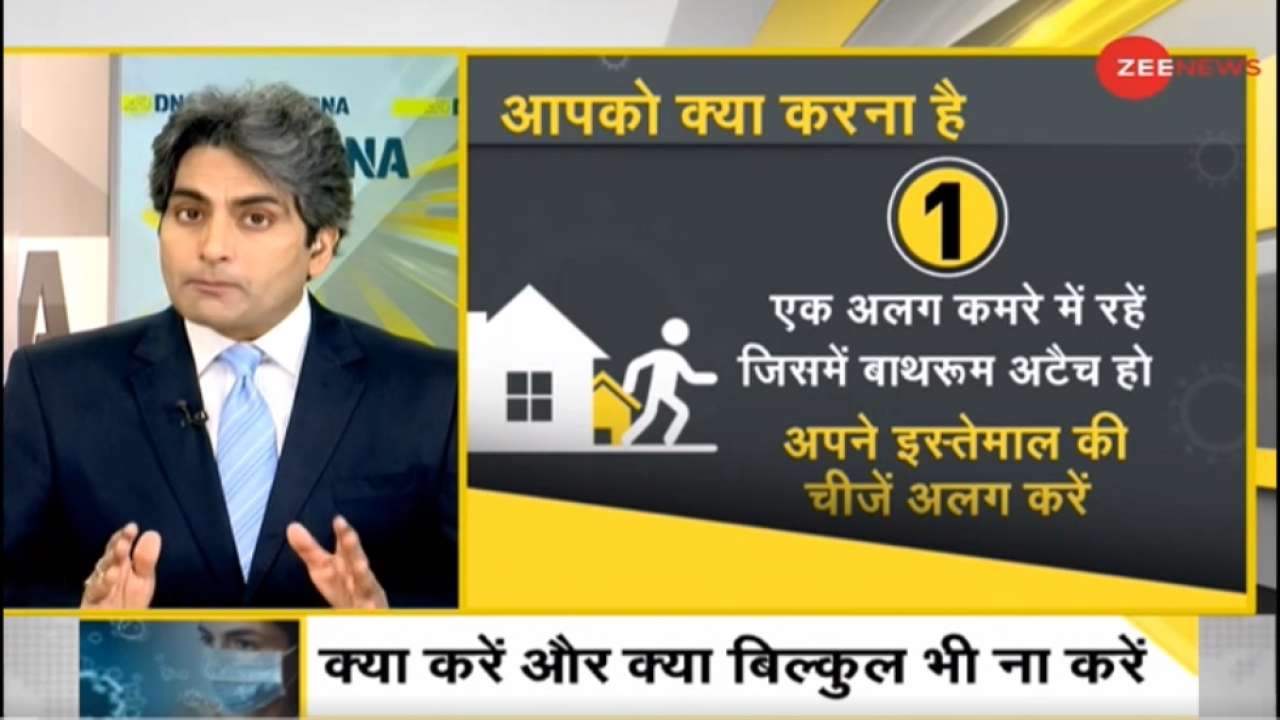 At today's show, we will tell you how long you can stay at home after being infected with COVID and look after yourself and in what situation you should visit the hospital immediately. Here is a complete list of what to do and what not to do when you are COVID positive.
If you have mild symptoms after infection, then you can look after yourself by staying at home. For this, you have to take care of four things-
The first and most important thing is to isolate yourself in a separate room. Second is if you have mild fever, then you can take Paracetamol medication.
The third thing is to check and monitor the fever and Oxygen Saturation 10 to 15 times a day. If you want, you can alarm your cellphone at a break of 1 hour for this. If your body's oxygen level is between 94 and 100, then you don't need to panic. If it is smaller, then you must contact your doctor.
The fourth thing is to drink plenty of fluids and 8 to 10 glasses of water throughout the day.
Now understand what to do if you have mild symptoms.
You do not have to take any medicines such as steroids and Remdesivir without the advice of a doctor.
Now understand what to do if you have severe symptoms.
1. Keep in touch with your doctor. If you want, you can also consult your doctor online.
2. If you are more affected by the virus, then you will have a high fever for five to seven days, and the oxygen level will also be below 94 percent, so keep an eye on fever and oxygen .
3. If the oxygen level drops rapidly then you should go to hospital immediately. Try to get a bed in any hospital as soon as possible.
4. Contact government agencies for oxygen cylinders.
A major update today regarding oxygen deficiency is that a private hospital has, for the first time, arrived at court for lack of oxygen. This hospital is called Max.
An emergency hearing went ahead at the Delhi High Court regarding oxygen supply as Max Hospital, Patparganj had filed a petition in the High Court.
In the petition, Max Hospital said it has only three hours of oxygen left, on which the Delhi High Court slammed central government and said central government is not working properly on oxygen supply.
The High Court, when issuing the order, said it supplies oxygen wherever you can, airborne, but in all cases, the lives of critically ill citizens should be saved.
A press conference was also held on Wednesday on behalf of the Ministry of Health about the current COVID crisis. We want to tell you five important things.
1. There are currently 146 areas in the country, where the positivity rate is more than 15 percent. There are 274 areas where the positivity rate ranges from 5 to 15 percent and 308 areas where the positivity rate is less than 5 percent. This means that the risk in these areas is slightly lower.
2. The number of active COVID patients in the country is currently 21,57,000. It is concerning that the number of active cases in the five provinces of the country is more than 1 lakh.
3. There are currently 2,105 beds for COVID patients in central government hospitals, of which 1875 are oxygen beds and 230 are ICU beds. In addition, oxygen production currently stands at 7.5 thousand metric tons. And so far the central government has supplied 6600 tonnes of oxygen to all the provinces.
4. The rate of people recovering from COVID in the country is 85%, while the rate of deaths from it is 1.17 percent. And according to the Ministry of Health, this death rate is lower than the first wave.
And the last thing is that 80 percent of the healthcare workers in the country have taken two doses of the vaccine.