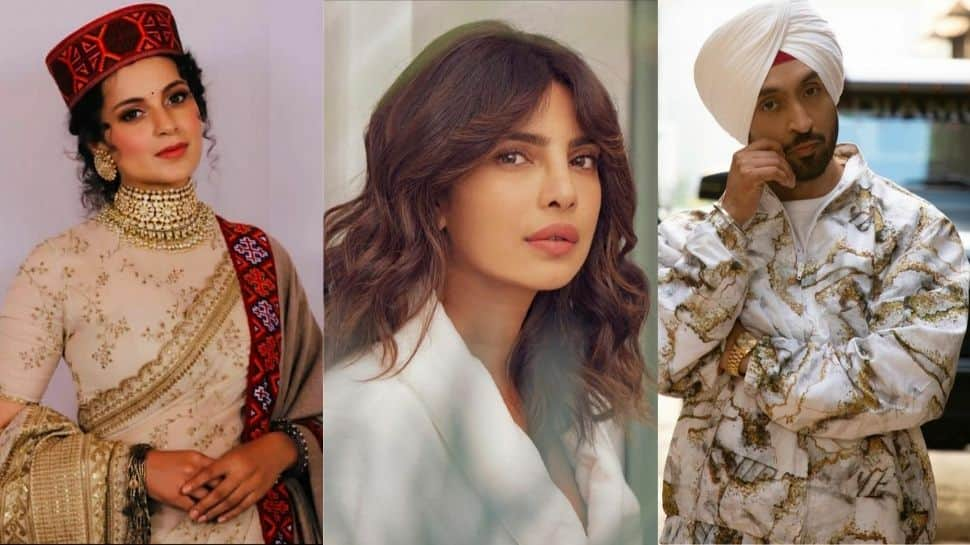 New Delhi: Kangana Ranaut launched a fresh volley at her opponents and launched a series of tweets criticizing Priyanka Chopra and Diljit Dosanjh for their support of the ongoing farmers' protest.
Addressing Priyanka and Diljit, Kangana wrote: "People like @diljitdosanjh and @priyankachopra will be hailed by the left-wing media for misleading and encouraging protests by farmers, the film industry, and pro-Islamist and anti-India brands will flood them. with offers and English / living in colonies The hangover media will congratulate you with awards, the problem is that the whole system is designed to make the anti-nationals flourish and grow and we are very few against a corrupt system, but I am sure that magic will occur in every fight of GOOD against EVIL. Evil has been much stronger, JAI SHRI RAM ".
In addition, he retweeted Prime Minister Narendra Modi's tweet about the press conference of Union ministers Narendra Singh Tomar and Piyush Goyal. Tagging Priyanka and Diljit, Kangana tweeted in Hindi
which roughly translates to: "Dear Diljit Dosanjh and Priyanka Chopra, if you are really concerned about the farmers, if you respect your mothers, at least listen to (the ministers) what is the farmers' bill. Or, just They want to use their "Mothers, sisters and farmers who come in the good books of the anti-nationals? What a world."
See Kangana's tweets here.
The problem is not only them, but each and every one of the individuals who support and oppose them # FarmersBill_2020 everyone is aware of how important this bill is to farmers but provokes innocent farmers to incite violence, hatred and Bharat Band for their small profits (cont) https://t.co/JW2qU1LM0H

– Kangana Ranaut (@KanganaTeam) December 11, 2020
प्रिय @diljitdosanjh @Priyanka Chopra अगर सच में किसानों की चिंता है, अगर सच में अपनी माताओं का आदर सम्मान करते हो तो सुन तो लो आख़िर फ़ार्मर्ज़ बिल है क्या! या सिर्फ़ अपनी माताओं, बहनों और किसानों का इस्तेमाल करके देशद्रोहियों कि गुड बुक्स में आना चाहते हो? वाह रे दुनिया वाह https://t.co/46xKrtpQt2

– Kangana Ranaut (@KanganaTeam) December 11, 2020
Thank you local krantikari paji @diljitdosanjh hee ko punjabi mein samjhado please
Mujhse bahut gussa ho gaye el woh jab maine samjhane ki koshish ki https://t.co/KOe1Qljxcm

– Kangana Ranaut (@KanganaTeam) December 11, 2020
When I see such disturbing images I tell myself to take a deep breath and remind myself that the world was good before me and will continue to do so after me, the world was never fair, it never will be, sometimes all we need is acceptance , everyone. who feels pangs of impotence, BREATHES https://t.co/xBrrGOskci

– Kangana Ranaut (@KanganaTeam) December 10, 2020
On Sunday (December 6), Priyanka Chopra tweeted in support of farmers, writing: "Our farmers are India's food soldiers. Their fears must be appeased. Their hopes must be fulfilled. As a prosperous democracy, we must ensure that this crises are resolved sooner rather than later. "
The Punjabi singer and actor's constant support for the farmers is well known, whether through social media or his visit to the protest site. He rose to fame after the Twitter feud with Kangana went viral. Diljit had criticized Kangana for her misleading tweet about an elderly farmer. Many celebrities had praised Diljit for taking on Kangana, who is famous for her wars on Twitter.