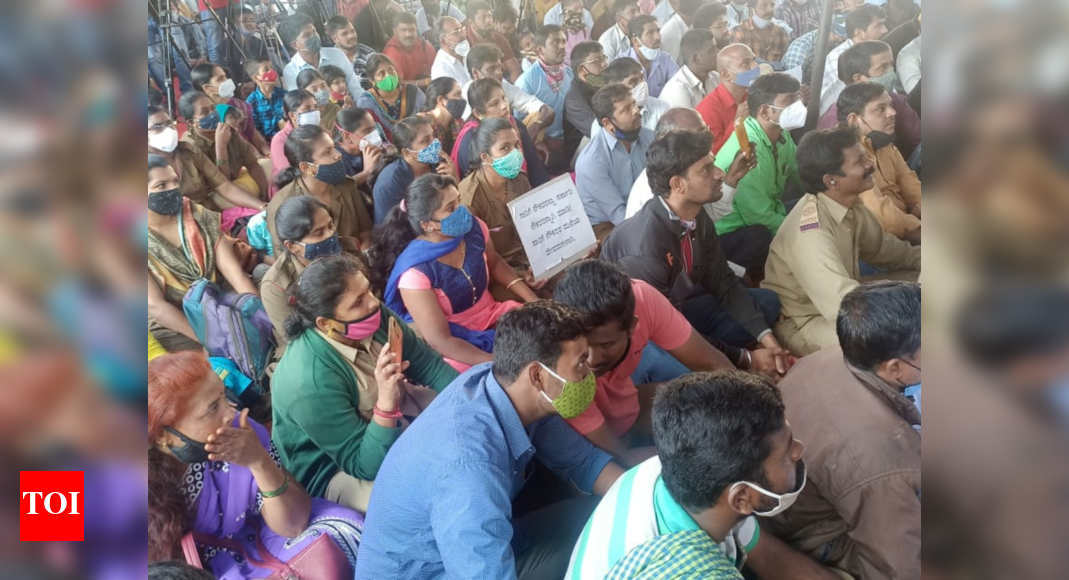 BENGALURU: Following a strike called by transportation employees to demand that they be considered government employees, state bus services across the state were paralyzed on Sunday, the third day of the transportation employees' strike.
KSRTC and BMTC are operating skeletal services under police protection. BMTC operated only 78 of the 5,000 buses in Bangalore until 11 am KSRTC operated 66 of the 5,500 buses in Mangaluru (61), Puttur (3) and Shivamogga (2) until 8 am.
Hundreds of employees of transportation corporations are on a hunger strike in Freedom Park on Sunday.
With employees threatening to continue their strike, Transport Minister Laxman Savadi said the government plans to hire private vehicles and operate them at a government-set rate starting Sunday.
Savadi is also holding talks with the employees and expects the strike to end overnight. However, Karnataka President Rajya Raitha Sangha, Kodihalli Chandrashekar, said the strike will continue.
Lakhs of passengers are stranded in Karnataka bus stations due to the strike. There are also several complaints against rickshaw drivers stripping passengers.
Farmers protesting the new farm laws expanded their support for transportation personnel. Employees are demanding that they be included in the government payroll, provided the same privileges / incentives as government employees and compensation of Rs 30 lakh are paid to transportation workers who died during Covid service.