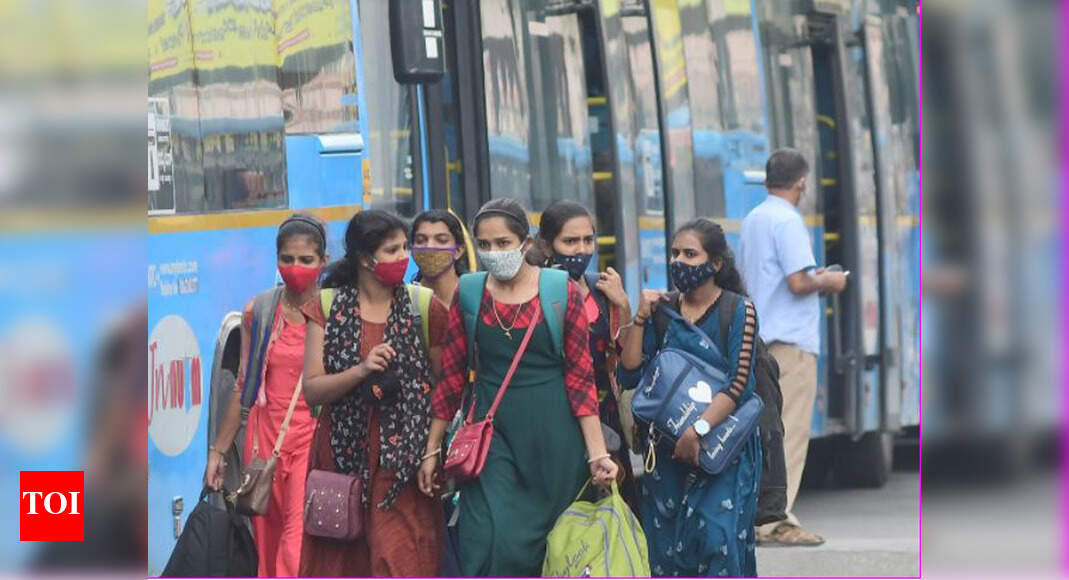 BENGALURU: Bus commuters across Karnataka has experienced relief as employees of four state-run bus corporations, including KSRTC a BMTC, postponed their 15-day strike on Wednesday.
Kodihalli Chandrashekar, president, Karnataka Rajya Raitha SanghaLeading the strike: "We have decided to withdraw the strike and respect the provisional high court order."
However, he said, they will go on strike again if their demands are not met. "We have the right to protest against the state government. All employees will return to duty from Thursday. However, they have acted against several employees for not reporting to duty and should withdraw these orders, "he added.
The Karnataka high court said on Tuesday that even if the demands of the workers were legal, this may be the worst time to go on strike as the state is tackling the Covid-19 pandemic.
Transportation department officials said full operations will start from Thursday. However, most of the employees returned to duty on Wednesday morning following the court order. Until 8pm on Wednesday four STUs operated 13,084 buses including KSRTC (4,970), BMTC (2,815) and NEKRTC (2,248) and NWKRTC (3,051). They were operating 18,100 buses before the strike.
Since April 7, 119 buses have been damaged. These include KSRTC (73), BMTC (6), NWKRTC (13) and NEKRTC (27). However, STUs are yet to calculate losses due to vehicle damage. Meanwhile, revenue loss to four STUs due to cancellation of services is around Rs 287 crore. This includes KSRTC (Rs 122.5 crore), BMTC (Rs 45 crore), NWKRTC (Rs 57.5 crore) NEKRTC (Rs 62 crore).
This is the longest strike in the history of STUs in Karnataka as the previous longest agitation lasted only five days. Travelers had to use private operators for emergency travel.
Deputy CM and transport minister Laxman Savadi said the relief of the strike was a relief for the public, especially for the poor. He thanked private operators for providing alternative arrangements and said the government was sympathetic to the demands of workers.
More than 1.3 lakh workers have been on strike since April 7, trying to revise wages at the same level as Sixth Pay Commission recommendations. However, STUs managed to operate many buses in the past few days: from 236 buses on April 7, 1626 on April 10, 2663 on April 11, 4283 on April 15 and 5644 on April 16.
The government said it cannot implement a pay review according to the Sixth Pay Commission because of its financial position. Several arm spin tactics adopted by STUs against protesting employees include dismissal and suspension of employees, KSRTC transfer of employees, threatening to leave staff quarters, not releasing March salaries, no pay-no-pay rule and demanding a medical fitness report for employees which is over 55 years. The government also ordered cases against employees under ESMA.