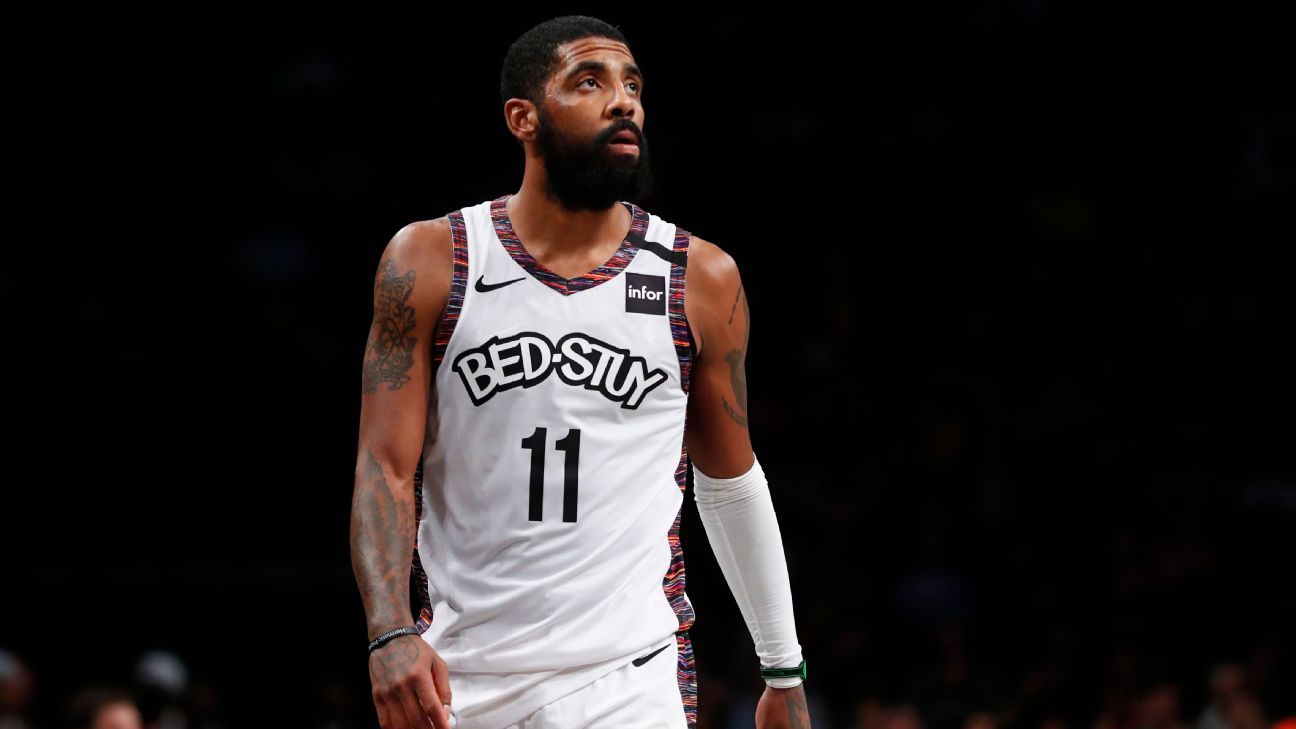 NEW YORK – Kyrie Irving and the Brooklyn Nets have been fined $ 25,000 each by the NBA for failing to comply with the league's media rules.
"The fines result from Irving's refusal on several occasions this week to participate in the team's media availability," the NBA said in a statement Thursday.
The NBA requires reporters to have healthy players before or after games and practices. Typically, the league also has teams reserved one day at the start of training camp for each player on the roster, as well as the general manager and coach, to speak to reporters. This year, the league's coronavirus protocols limit the number of players allowed on the premises at any given time, and teams have been making a handful of players available each day.
Irving has turned down numerous requests to speak to reporters, including those from ESPN, since the start of training camp on Dec. 1.
He apparently reacted to the fine in an Instagram story on Friday.
"I pray that we use the 'fine money' for underserved communities in need, especially seeing where our world is currently," Irving wrote. "[I am] here for peace, love and greatness. So stop distracting me and my team, and appreciate the art. We move differently around here.
"I don't talk to Pawns. My attention is worth more."
The post sparked a reaction from Irving's former Cleveland Cavaliers teammate Kevin Love.
"I think calling someone a pawn is a sure sign of disrespect, and I understand where Kyrie is coming from trying to improve the lives of various people, but I am not a divisive person," Love said. "So that's where I stand on it, and I love Kyrie. I know he's changed, but again, I'm not a divisive person. I think everyone has a role to play as long as the intention is there and a good spot comes along. "
On December 4, Irving issued a brief statement in lieu of a traditional press conference.
"Rather than speaking to the media today, I am issuing this statement to ensure that my message is conveyed correctly," Irving's statement said, in part. "I am committed to arriving at work every day, ready to have fun, compete, perform and win championships alongside my teammates and colleagues from the Nets organization."
That statement did not meet the league's media requirements.
Irving, 28, joined the Nets in 2019 on a four-year, $ 141 million contract. The $ 25,000 fine is equal to less than 1% of Irving's annual salary.
For a player to file a complaint, the NBA would have to fine the player more than $ 50,000, according to ESPN's Bobby Marks.
The Nets are scheduled to play their first preseason game Sunday against the Washington Wizards.
ESPN's Eric Woodyard contributed to this report.