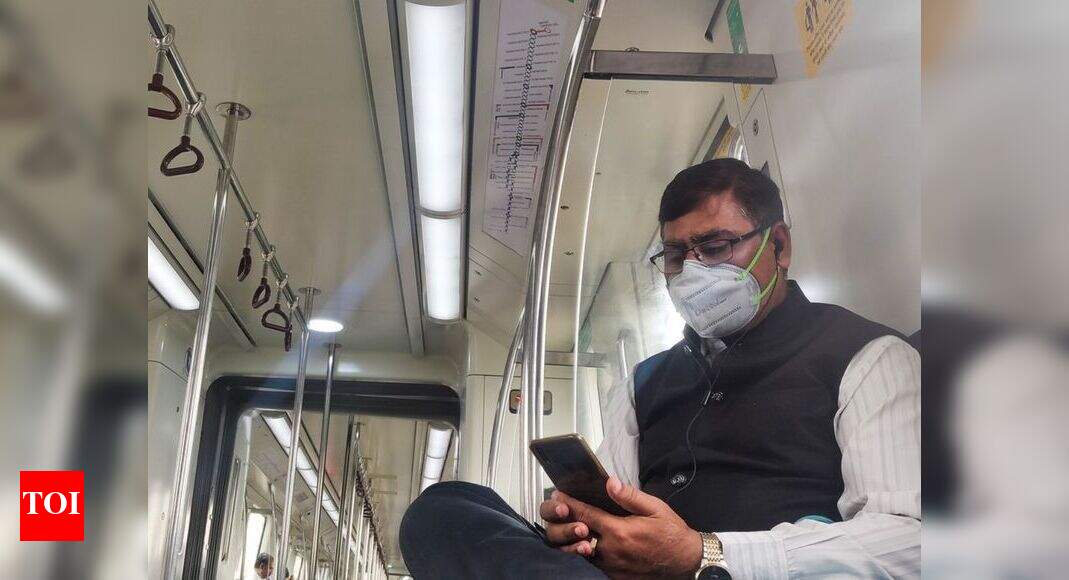 Ajay Prasad caught COVID when he resumed his job. Soon, his wife also developed symptoms and tested positive. While he was hospitalized, his wife recovered at home. Through his story he wants to warn everyone who chooses to visit a nearby clinic instead of going to specialists.
When the COVID pandemic began, the dreaded news from Europe and the US was scary and stressful to live with, considering you have the elderly and children at home.
The first close encounter with the virus occurred in early July, when my 20-year-old nephew came into contact with the virus. The deadlines were very scary with BBMP building barricades and socially isolating the entire building. My nephew was taken to a CCC and was discharged after 10 days. He was given oral cough medicine and vitamins for 5 days and was under observation for another 5 days. My sister's family was taken to a quarantine center and after testing negative for the COVID virus in 5 days, they returned home. I live in a separate building with my two brothers – 3 floors, with 3 rooms each and a common staircase to use.

You will find all kinds of neighbors around. While we had some good souls who helped us get our medicines and the daily necessities of the home, we had some partially educated neighbors who showed their true colors during this difficult time. Partial education is a risky proposition and they really can't fit into any category. Empty containers usually make more noise, but I never expected more from a college laborer, a cafeteria owner, or a self-proclaimed social worker and their depression-ridden wives.
Then came the true test of time. It's the end of October when I got sick. It started with a mild cold and sore throat. He had been back at the office on odd-numbered days and commuted to work on Monday, Tuesday and Friday. With a course in medicine, my cold and throat problems disappeared in one day. The next day I woke up with a severe neck pain. Since neck pain is a common thing for me in 3-6 months, I felt like it would go away like my cold. But that is something that I could not understand. For the next 4 to 5 days, I had severe body pain. Since my GP was away, I decided to see a doctor at the neighborhood clinic. The doctor examined me and gave me medicine for a couple of days, said that I should come back for blood and urine tests if the problem persists. It was a weekend and I was resting and feeling better. The next day I ventured to the office but by afternoon my body ache was returning. I realized that I could not continue and decided to go home. I met with the doctor and did the blood and urine tests and he told me to come once the reports were ready. I met him in the morning and there was something strange about the doctor's demeanor and body language that didn't suit me. He prescribed a set of medications for me and told me that I might need intravenous medications if I did not recover well. This line from the doctor again didn't sound right. Once I got home, I wanted to see a specialist and pinged the two doctors that came to mind; I shared all the reports and described my conditions. One was my wife's doctor, with whom we had lost contact for some time. I ping her to see if I can do a video query with her. The other person is a doctor friend of mine. He runs an orthopedic hospital and is a general specialist in a hospital.
To my good luck, both doctors responded. My orthopedic doctor friend suggested that I get tested for COVID and said we could do the same at his hospital. Meanwhile, my wife's doctor also responded saying that we can schedule a video call through the Malathi Manipal Jayanagar team.
I had isolated myself for the last 7 days because I have two daughters aged 11 and 6. My wife and the three helpers at home continued to live normally.
This was the beginning of a tough 21 day period. I had the consultation with Dr. Kamal and he advised CRP, D-Dimer and Xray in addition to the CBC that I had done. I did all the tests and the reports were clear. So the doctor prescribed Fluvir, Ezee, Ceeplus, Dolo (SoS) and told me to monitor my oxygen. She recommended a follow-up visit after 3 days. These 3 days were hard for me. Although my saturation was always between 97 and 99, I had started to have a fever. I kept the doctor informed about my temperature and saturation readings on a daily basis. Meanwhile, my wife started coughing and complained of loss of taste and smell. We feel like we were both hit by COVID. On the third day, I informed the doctor about my wife's condition and that's when he told me that we should both get tested for COVID immediately. I wanted the children, others and home away from this disease and I thought I should have everyone tested at home, including our domestic shelters.
Hard times require mature decisions. Although my wife wanted to wait a couple of days to see if we got better, I followed the doctor's advice. My wife and I went to the almost BBMP doctor's office and our rapid antigens test came back positive. I was not surprised. I told the BBMP team to come with me and test everyone in the house. By God's grace, everyone else was Negative. That in itself gave me a lot of confidence and I knew this phase of time will pass soon.
We took the children to the second floor and waited the next day to see the doctor. Dr. Kamal repeated the same test (D-Dimer, CRP, and CBC) for both me and Veena (my wife), but this time she added the TCAR for me. I was diagnosed with moderate COVID and Veena was a mild case. The doctor advised me to stay in 7 days and Veena was told to take the medications at home.
The next 7 days they gave me Remdisivir, steroids, blood thinners, and other antibiotics. Veena was fine at home. He did his HRCT after 4 days of medication and the doctor advised him to continue with home isolation and medication. I was discharged on the eighth day. The next 2 weeks were home isolation. My body had weakened. On the way home, I started to eat really well. We sanitize the house and recover the children after 15 days of isolation after my discharge. Life has started to normalize with my usual yoga and my daily work at the office. The prayers of family and friends helped a lot. Dr. Kamal is a genius.
My advice to everyone would be to get tested right away and start taking medication if you see any signs of COVID. If we delay, the disease also takes time to leave the body. Consult only a specialist and don't waste time talking to nearby clinics. These clinics do not consider COVID as a disease. Stay calm, keep practicing pranayams as much as you can. Avoid multiple calls and keep health hygiene.
Avoid negativity and especially negative people around you.
Did you fight COVID-19? We want to know everything. ETimes Lifestyle is calling on all COVID survivors to share their stories of survival and hope.
Write to us at toi.health1@gmail.com with 'My COVID Story' in the subject line.
We will publish your experience.
The opinions expressed in this article should not be considered a substitute for medical advice. Consult your treating physician for more details.