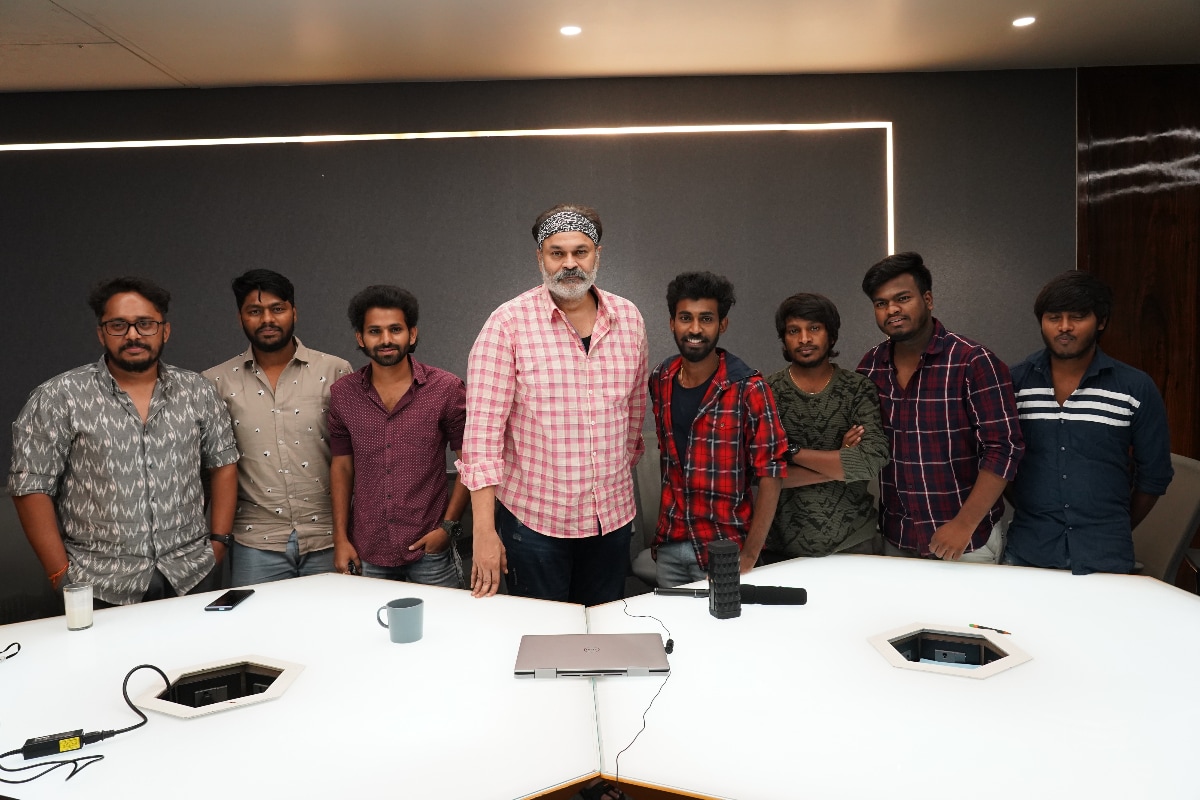 Megabrother Nagababu web series is being screened with the guys who did the skits `Gully Boys` and` Rowdy Boys` on stage. Basti Boys is the title. It is being conceived and co-produced by Infinity. It is interesting to note that Nagababu Originals is releasing this on YouTube, not on OTT. Commenting on the Basti Boys web series, Nagababu said, "Saddam-Yadamma Raju-Bhaskar-Hari (Adirindi team) came together to create a web series called Basti Boys with the four of them. We are taking this series together with Infinitum themselves. This content is in good demand on any OTT. If not, we are releasing it on my YouTube channel `Nagababu Originals` without any subscription charges with the intention of making it available to everyone. We spent a lot of money on this series just like on TV. We plan to do more seasons if the series hits. The concept for this series was co-produced by Bullet Bhaskar. The bullet was directed by Bhaskar.
On this occasion, Nagababu praised Saddam-Hari-King Bhaskar. The web series is said to be available from 6pm on the 27th of this month. Yadamma Raju said- " When we were free Nagababu called Gare and anchored him giving him a chance in 'Adirindi'. Even after that Nagababu Gare started this web series again saying that we are not empty. Thank you sir for that. This web series came out very well. Encourage everyone to watch this web series. Thankyou to all.
Basti Boys trailer
Express Hari said- " Thanks to Nagbabu for giving us this web series called Basti Boys and supporting us earlier. Talent is for many, but Nagababu is always in the first place among those who recognize and support it. In the past we did gully boys, rowdy boys skits on stage … stopped for a year … so where are most of the gully boys, rowdy boys? They asked where their comedy was. Now that being said .. your comedy appetite full meals that you have been waiting for for years are our Basti Boys. Laugh more than you expected. Comedy beyond the Gully Boys-De Boys will be seen in our Basti Boys. After doing the skits in Adirindi Time, the ideas given by Sar helped a lot. Imagine the range of comedy in the Basti Boys made during the reign of Nagababu Gary. I was very excited when the sir called and said let's do basti boys. After shooting and dubbing something like that, I say now … it goes beyond gully boys and rowdy boys. It goes down to the 8th and 9th series. All the best to all of us.

Patas Bhaskar said- " Thank you so much Daddy … We have been together for 4-5 years. The year came with a gap. For those who think it's over, these busty boys will come back again. All the retail work we do is in this episode. Everything we do in shooting is in this web series. We will be the same in this series as we are at home and outside. Mackay seemed to do while.Bullet Bhaskar is always updated. "Thanks to Bullet Bhaskar for helping me as a director," he said.
Basti Boys trailer
Saddam said, "Thank you Nagababu sir. A good amount will come to anyone who gives it outside … but it is being released for free to be available to everyone. You know the Gully Boys. The rowdy boys know … if they both combine, these are busty boys. This is the first web series that the four of us are doing in combination. We laughed a lot while saying dubbing. You will laugh as well if released. Your comedy timing would be great if the four of us got together. We want this series to continue as the name still comes in this series.