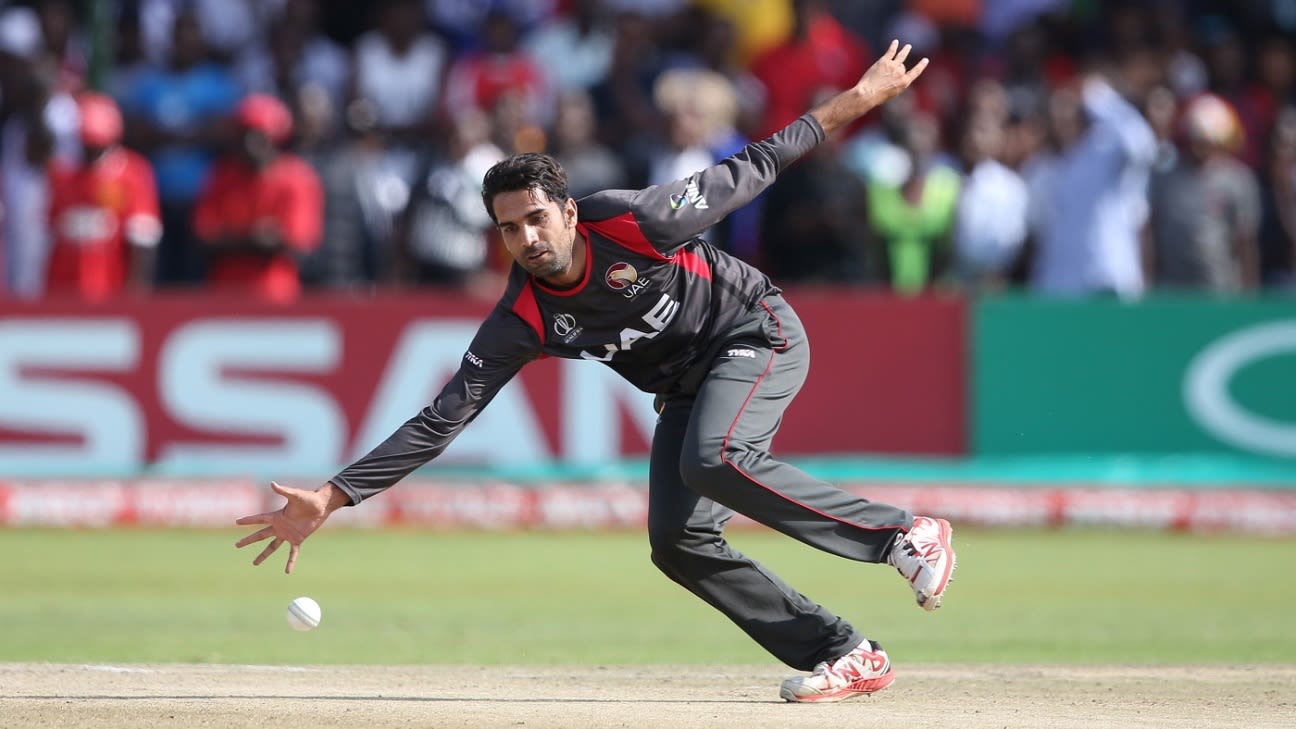 Qadeer Ahmed, the UAE's central regulator, has been suspended for five years by the ICC for committing six breaches of the governing body's anti-corruption code. Ahmed's ban will be backdated to October 16, 2019, when he was suspended by the ICC along with his colleagues Mohammad Naveed and Shaiman Anwar, both of whom have since been suspended eight years.
The ICC's anti-corruption unit found Ahmed, 35, who played 11 ODIs and ten T20Is between 2015 and 2019, guilty on counts that included failing to disclose methods during two bilateral series in which the UAE played away in 2019. The first in Zimbabwe was in April, where Ahmed was offered an AED 60,000-70,000 (about US $ 16,000 to 19,000) by the polluters. Then, in August in the Netherlands, Ahmed was again found to be in contact with pollutants, after which the ACU suspended him at the start of the 2019 World Cup qualifying matches, which were held in Zimbabwe in October-November.
The ICC said in a media statement on Wednesday that Ahmed had failed to disclose details of the procedures by polluters, or that he had provided insider information in August 2019 to a person, who had played club cricket with him in the UAE.
That person is understood to be Mehardeep Chhayakar, known as "Mr Z" in the ACU's findings, published by the ICC on Wednesday. Chhayakar knew Ahmed while playing domestic cricket in Ajman in the United Arab Emirates.
On Wednesday, the ICC also charged Chhayakar for violating half a dozen accounts of the anti-corruption code. He was accused of "trying to contrive to fix aspects" of games in the Zimbabwe vs UAE series in April 2019 as well as in the Canada T20 Global league in 2019. Chhayakar was also accused of trying to "motivate and / or solicit" a is involved in the Zimbabwe-UAE series as well as in the Canadian GT20. Chhayakar, whom the ICC said had refused to cooperate with the investigation, has 14 days from April 15 (the day he was charged) to respond.
Ahmed is originally from Pakistan, and has been there since leaving the UAE midway into the ACU investigation. Before that, Ahmed had attended two interviews with the ACU team, which took place on October 6 and 9, 2019. He would speak to the ACU team again in April 2020, before dropping halfway through again.
How was Ahmed approached?
Ahmed told the ACU that Chhayakar had been a "close associate" and had helped him get into various teams in the UAE club circuit. In early 2019, Chhayakar told Ahmed that he could help him enter one of the T10 franchises in a tournament scheduled for November 2019 in the United Arab Emirates. To that end, Chhayakar put Ahmed in touch with "Mr Y", who ESPNcricinfo understands is Dinesh Talwar, who is on the ACU's pollutants list.
"[Mr Z] [Chhayakar] previously linked to an individual called [Mr Y] [Talwar] (known corrupter), on the basis that [Mr Y] who could get him into a T10 team that [Mr Y] looking to buy in, "the ICC elaborated.
Chhayakar and Talwar then made their first approach to Ahmed just as he was preparing to leave for Zimbabwe. "About a week to 10 days before Mr Khan [Ahmed] traveled to Zimbabwe in April 2019 to participate as a member of the UAE squad in the Zimbabwe v United Arab Emirates series, [Mr Z] a [Mr Y] approach him and offer him 60,000-70,000 dirhams to "do bad bowling" in the Zimbabwe v UAE series. In particular, they asked him to give away 70/80 runs while bowling. "
"His five-year period of ineligibility reflects the seriousness of his breaches and the number of accusations. He has accepted responsibility for his actions and expressed regret for those he has disappointed."

Alex Marshall, general manager of the ICC integrity unit
It was not possible to confirm whether Ahmed would eventually receive the money. Ahmed, the ACU found, continued to meet Chhayakar, who would contact him before a series or tournament. Ahmed then shared insider information, especially about bowling plans in case he played, of the series against Holland.
"It had provided Insider Information to [Mr Z], in [Mr Z]a request, in August 2019, which of which bowls he would bow if playing in the Netherlands v United Arab Emirates series that month. "
Ahmed agreed that he was aware of the ACU rules he had broken, as he failed to come clean about approaching him, being offered money, and providing in-house information to polluters. However, the ICC said Ahmed had questioned the timing of the suspension of UAE team members just before the World Cup qualifying matches.
"He questioned why the ACU had acted against members of the UAE team before starting the ICC World T20 Qualifiers in October 2019 because if it had not done so, he said the ACU would have been able to gather a lot of information about corruption (ie concludes that the ACU's action in interrogating UAE team members had disrupted planned corruption). "
According to the ICC, Ahmed abruptly left Pakistan on October 11, 2019 without the knowledge of the ACU or the Emirates Cricket Board. The ACU tracked down Ahmed and conducted another interview on April 18 last year. However, Ahmed "stopped the interview halfway through, indicating that he had to go to work". He subsequently "refused" to complete a rescheduled interview and said he would face the ICC anti-corruption tribunal instead.
Last week, on April 14, Ahmed agreed to all ACU sanctions without facing the tribunal.
Alex Marshall, general manager of the ICC integrity unit, said in a statement, "He [Ahmed] admitted to wrongdoing and requested an agreed penalty instead of a Tribunal. His five-year period of ineligibility reflects the seriousness of his breaches and the number of allegations. He has accepted responsibility for his actions and expressed regret for those he has let down. "
Nagraj Gollapudi is a news editor at ESPNcricinfo