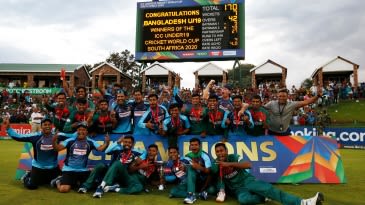 News
Qualifiers for the T20 2023 Women's World Cup will begin in August next year
The 2022 U19 Men's World Cup in the West Indies will involve 16 teams, 11 of which, the hosts, Afghanistan, Australia, Bangladesh, England, India, New Zealand, Pakistan, South Africa, Sri Lanka and Zimbabwe, already have made. qualified by virtue of a top 11 in the 2020 edition. Thirty-three teams, which will go through seven regional events starting in June next year, will compete for the remaining five places, the ICC announced on Sunday.
According to a statement issued by the governing body, "Due to the depth in force in the African and Asian regions, a two-division classification route will be carried out.
"Teams from the other three regions, America, EAP and Europe will have a one-division qualification process, with the winner of each Regional Qualifier claiming one of the five coveted ICC U19 Men's Cricket World Cup spots. 2022 ".
Nigeria, Scotland, Japan, the US and the United Arab Emirates have been named as hosts of the Africa, Europe, East Asia, Pacific, Americas and Asia qualifiers respectively. The first of the qualifying tournaments, originally delayed a year due to Covid-19, will kick off in Nigeria in September after its participants are determined by the Africa Division 2 regional event in Tanzania in June.
The ICC announced on Saturday that the ten-team T20 2023 Women's World Cup in South Africa, which was recently postponed from November 2022 to February 2023, will see the top seven teams, out of the ten nations that participated in the 2020 event, earn direct qualification based on your ICC rankings as of November 30, 2021.
Hosts South Africa have won automatic qualification, with the remaining two places to be determined through regional qualifiers, scheduled to begin in August next year.
While the 2020 T20 World Cup qualifiers involved only 10 teams, 37 nations will compete for the final two places of the 2023 world tournament. The governing body said in a statement that up to 115 T20I will be played at ICC events in the run-up to the global event in 2023, which runs from February 9-26.