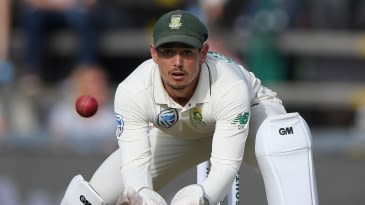 Quinton de Kock has been named South Africa Test Captain for the 2020/21 season. de Kock, who already leads the ODI and T20I squads, will only be in office temporarily, with a permanent appointment to be finalized in the coming months.
De Kock's promotion to leadership was announced on Friday, and comes eight months after Graeme Smith, South Africa's director of cricket, said de Kock would not be named Test captain so he could "stay cool" given his already large basket of responsibilities. However, given the relatively lighter testing schedule reserved for South Africa, the selection committee felt de Kock could handle the role for this summer.
South Africa will play seven Tests, two against Sri Lanka, two in Pakistan and three against Australia. They do not have a cricket test scheduled between March and December, at which point they hope to have chosen their long-term test leader. For now, De Kock has shown his willingness to assume the captaincy of the red ball and the selectors believe that he is the right choice.
"Quinton is happy to continue in the position for the upcoming season and is comfortable with the balance of the workload and we fully support him as captain," said Victor Mptisang, selector coordinator. "We are also satisfied with the leadership group of the team and, at the same time, we are cultivating a strong culture of individual leadership, so that the team produces a sustainable flow of potential captains for the future."
Ultimately, the decision to appoint de Kock may have come, not because of "time constraints", as Mptisang suggested, but because South Africa does not have a prominent candidate for the position. Ten months have passed since Faf du Plessis resigned in February, and in that time, Dean Elgar, Keshav Maharaj, Aiden Markram, and Temba Bavuma made their interest in the position known, but there are question marks around each of them since long time ago. term elections.
"Quinton is happy to continue in the role for the upcoming season and is comfortable with balancing the workload and we fully support him as captain. We are also satisfied with the team's leadership group and are cultivating a strong leadership culture. individual". at the same time, for the team to produce a sustainable flow of potential captains for the future. "Victor Mptisang, selector coordinator
Elgar was considered the most obvious choice, given its age. He has played 63 tests and has been part of the set-up for as long as du Plessis. Elgar has even done the job once before, against England at Lord's when du Plessis went on paternity leave in 2017. At the time, he indicated that he did not want the job permanently, but has since changed his mind. However, South Africa is likely to want him to focus on leading with the bat. Elgar has 12 Test Hundreds to his name, but they tend to come in at a rate of one or two per season and South Africa might be expecting a few more.
Markram, who will likely be Elgar's partner at the top, has just returned to the test team after spending most of last summer outside international cricket with a broken finger. He's got three hundred in these last three first-class innings, which bodes well, but he had a meager patch in test cricket before he got injured. Markram needs to show consistency at the highest level but, as a former U19 captain, chances are, if he has a productive season, he could be the Test captain.
The same can be said for Bavuma, who led the Lions franchise to the first-class trophy last summer. Bavuma was eliminated last season, sparking a race-based scandal, but he hasn't taken a hundred tests since 2016. That has to change before he can be considered for the captaincy. If he does and the races flow, it will be a tough decision between him and Markram.
And Maharaj, however well-intentioned his leadership goals, has the disadvantage of being a left-handed spinner in a country of rapids. Although he is the first choice in his department and will play every event in the subcontinent, he is often not guaranteed a spot in the XI when South Africa plays at home, which would make it difficult to make him captain.
Rassie van der Dussen's name has also traveled the rounds as a possible leader after his impressive performance at the 2019 World Cup (where he was South Africa's second-leading scorer in an otherwise dismal campaign) and scored two half centuries in your first three test entries. But van der Dussen's test career is only four games long and he needs a bit more time on the test team before he can be promoted to captain.
Van der Dussen also supported de Kock during the recent T20I series against England, when asked if de Kock was having a hard time handling the pressures of captaining, opening the batting, keeping the wicket, balancing a side that didn't have any terrain available. and that addresses changing transformation goals. "I don't think it's getting tough for Quinton de Kock," van der Dussen had said. "I don't know why you would come with that angle. Quinny is a brilliant captain. On the field, his cricket mind is absolutely brilliant, in the locker room he's really good and he's one of the best players in the world as we know."
Fortunately, de Kock won't have as much to think about in testing. He'll hit in the lower-middle order, probably No. 6 or 7, and the onus of laying the bases will fall to veteran hitters like Elgar, van der Dussen and du Plessis. With Kyle Verreynne on the team, de Kock can also be relieved of the wicket gloves, if need be.
The Sri Lankan test team has an all-rounder, Wiaan Mulder, and Dwaine Pretorius could join in if he recovers in time from a hamstring injury, making the team's balance a bit less difficult. And the CSA interim board has confirmed that the transformation goals will go back to what they were last season, rather than increasing, as originally planned. That means South Africa needs to present, on average, over a season, six players of color, of which a minimum of two must be black Africans. Call it politics or call it necessity, that's what every South African must learn to work with, and De Kock is no different. Welcome to it.
Firdose Moonda is a correspondent for ESPNcricinfo in South Africa