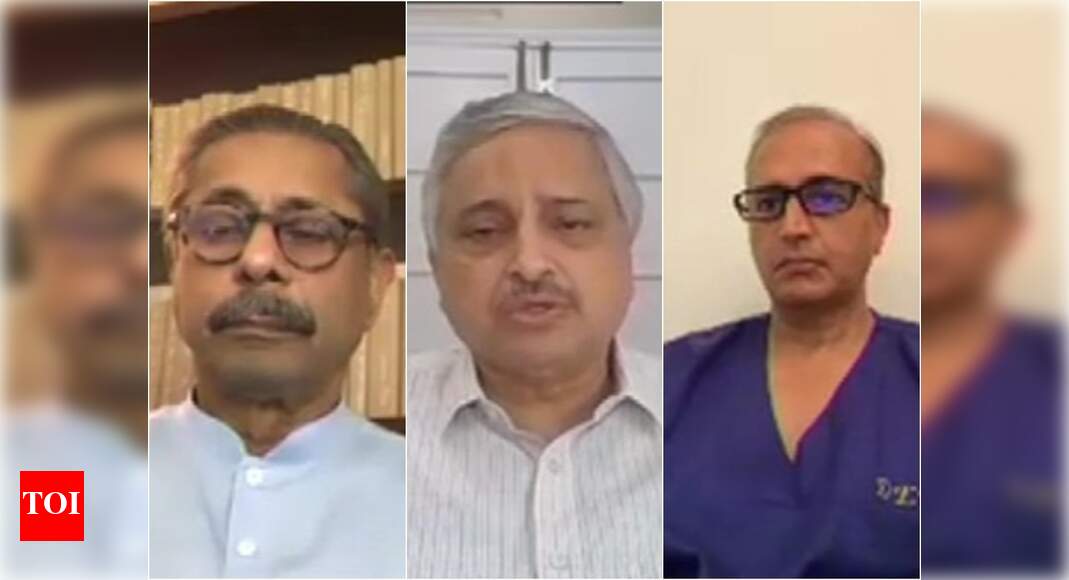 NEW DELHI: With India scrambling under the second wave of Covid-19, the country's top doctors on Wednesday held a joint session to advise citizens on how to tackle the pandemic.
AIIMS director Dr Randeep Guleria, Narayana Health chairman Dr Devi Shetty and Medanta chairman Dr Naresh Trehan addressed several queries regarding Covid's position in India and suggested measures people should adopt in the midst of the second wave.
Here are the key messages from top health experts:
Dr. Guleria
More than 85% of people will recover from Covid without any specific form treatment remdesivir, and so forth.
Only a small percentage of patients require Remdesivir. Don't consider this as a magic bullet.
As a country, if we work together, use wisely remanded oxygen, then, there will be no shortage anywhere. In terms of the number of people needing oxygen and oxygen supply, we are balanced.
Vaccines prevent you from getting the disease in the form of a serious illness. It may not stop you from getting the infection completely.
Even after vaccination, we may see a positive cause. Therefore, it is important to wear a mask even after you have been vaccinated.
Dr. Naresh Trehan
Fewer people need to go to hospital. The hospital beds should be used wisely and with responsibility.
We have now made a protocol that everyone who tests positive should not be given remdesivir.
Its use should be based on patient test results, symptoms, comorbidities, etc.
Remdesivir is not a 'Ramban', it's just the people who need it that reduce the viral load.
We need to use Remdesivir wisely.
If you do not need oxygen then do not use it as a safety blanket. Oxygen waste will only lead to depriving someone who needs it more.
Dr. Devi Shetty
Test Covid-19 yourself if you have any symptom such as headache, colds, cough, indigestion, vomiting.
In case one is positive, go see a doctor and get his opinion. It is a problem that can be solved provided you get the medical help early and follow the doctor's instructions.
There is a possibility that you may be disproportionate. In that case, stay home, isolate yourself, wear a mask and check your oxygen saturation every 6 hours.
If the oxygen saturation is above 94% then there is no problem.
If the oxygen level falls after exercise, call a doctor.