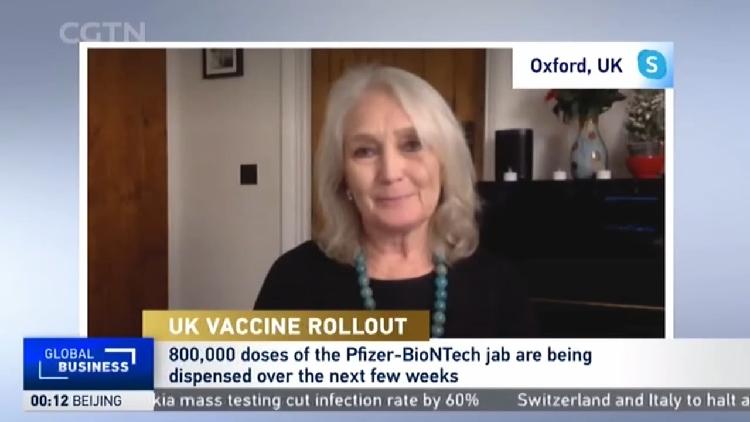 Richer countries will have to support the most disadvantaged parts of the world in distributing the new Pfizer-BioNTech vaccine due to delivery and storage costs, said Sian Griffiths, professor emeritus at the Chinese University of Hong Kong.
"We must remember that this is a global disease and that low-income countries in particular will need the support of high-income countries," Griffiths, who co-chaired the SARS research in Hong Kong in 2003, told CGTN.
"This vaccine has logistical challenges, because it has to be kept at minus 70 degrees Celsius and in low- and middle-income countries, you really won't have those facilities, or in rural areas you won't have those facilities, so it's quite difficult to do this distribution.
This week, a 90-year-old British woman, Margaret Keenan, was the first person in the world to receive the Pfizer-BioNTech injection after regulators approved its use in Britain last week. Around 70 hospitals in England, Wales, Scotland and Northern Ireland are administering the jab, with priority given to those over 80 and some key health and care staff.
It's the largest vaccination program in British history, but Griffiths worries that the world's poorest people don't have access to the jab.
"For now, we need to focus on getting this vaccine to as many people as possible to make sure the most vulnerable are vaccinated and we are starting to think about how this can be done globally," he said.
"As we have more options, we will probably find that the decisions are made by the government, not the individuals, because it will be about supply, demand, logistics … all those issues that are so complicated in this massive and very ambitious program. "