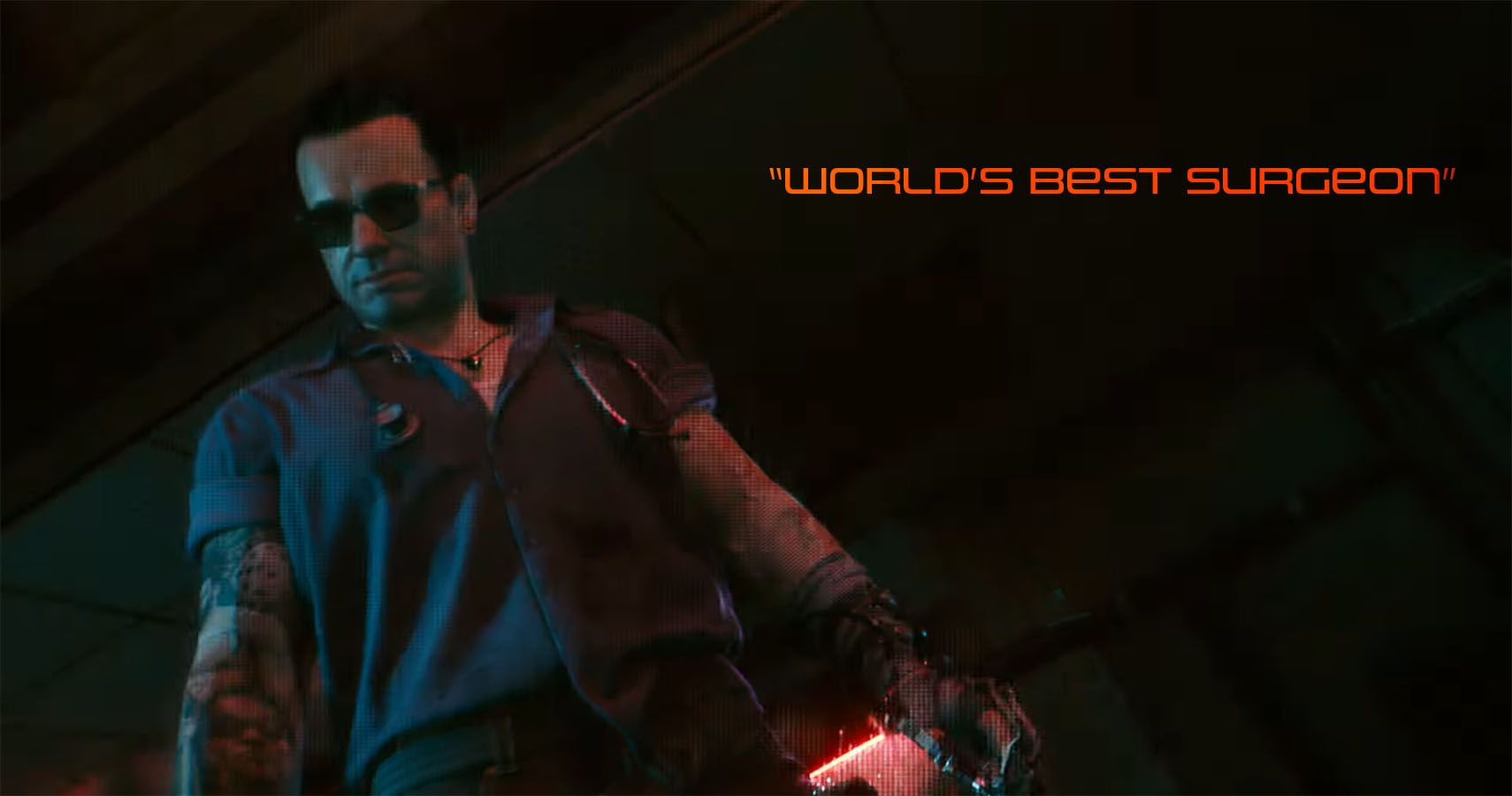 Cyberpunk 2077 refers to The Office's "best surgeon in the world".
Cyberpunk 2077's sprawling Night City is packed with cool things to see and discover. As with many RPGs as great as Cyberpunk, simply standing and listening to the NPCs' conversations can reward you with an Easter egg you never expected, like a reference to The Office.
One of the first little Easter eggs people found in Night City was legendary game designer Hideo Kojima, sitting at a hotel bar, getting movie ideas from fans who adored him. Several others have appeared as more players have started to get their hands on the game and explore every corner of the city.
Related: Cyberpunk 2077 Is Hiding Easter Eggs For Radiohead And Red Hot Chili Peppers
You would probably have to be a huge fan of The Office to catch this particular Easter egg, as it is one of the darkest tangential stories on the show. As reported by GameRant, if you find an NPC named Dennis in the Afterlife area, he will give you a quest called "Big In Japan" and introduce you to Haruyoshi, the character who will deliver famous lines from The Office.
The NPC's dialogue is almost a word-for-word recitation of an Office character's origin story. On the show, a character named Hide tells the story of how he came to the United States after a "botched" heart operation for a Yakuza boss. Hide claims to have been the best cardiac surgeon in Japan, which is why the Yakuza boss came to him. However, he claims to have made a mistake and the Yakuza boss died. So he hid on a fishing boat bound for the United States. Hide then reveals his big secret: he killed the Yakuza boss on purpose. After all, he was the number one cardiac surgeon in Japan; make no mistakes.
Once you complete the mission in Cyberpunk, you can talk to Haruyoshi, who tells you a very similar story. "In Japan, especially neurosurgeon," says the NPC. "One day, Tyger Claw's boss needs surgery. But, the boss dies on the table! Tyger Claws was very angry. I hide in a boat, I swim to America. Here Dennis, save me. But there is a secret: I kill the Tyger Claw's boss on purpose. The best surgeon in the world make no mistake. "
It turns out that you never know if the person you are meeting is, in fact, one of the best surgeons in the world; on the run from a gang due to their efforts to undermine the criminal organization.
Cyberpunk 2077 is available for PC on GOG.COM, Steam and Epic, Xbox One, Xbox Series X | S, PlayStation 4, PlayStation 5, and Stadia from December 10, 2020. When you buy Cyberpunk 2077 on GOG.COM, 100% of your money goes to CD PROJEKT Group and supports your future projects.
These articles are published in affiliation with GOG.COM. TheGamer received compensation from GOG Sp. Z oo for associating these items with their brand.
Up Next: Apple's Reduced Developer Fees in 2021 Only Affect About 2% of Revenue on the App Store
Source: GameRant
Back 4 Blood's PC Alpha is now open for registration
About the Author