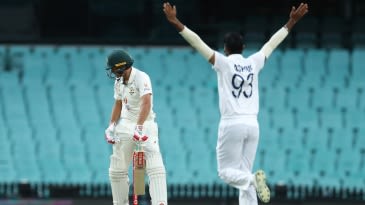 News
Test's starting starter has just 61 runs in eight innings this season
Joe Burns will enter the final day of Australia A's game against the Indians at SCG knowing it could make or break his hopes that his probationary spot won't be taken away at the last minute.
Chris Rogers, part of Australia A's coaching staff for games against the Indians, admitted that Burns and Marcus Harris will be relieved they didn't face the new ball under lights on the second night, but sometime on the final day they will. I have to fight Jasprit Bumrah and Mohammed Shami again.
The situation is particularly acute for Burns, who has just 61 runs in eight innings this season and will start the second inning with a pair after losing to Bumrah on day one. As is, he remains on the Adelaide test team, but another failure in Sydney will leave the selectors with a big decision to make.
"There's some pressure on him, for sure," Rogers said. "He's not stupid. So he has to take this opportunity, that's pretty important, and then it's up to the selectors."
Rogers encouraged Burns, who has been endorsed by the selectors, captain, coach and his teammates during a lean start to the season, to cut through the noise surrounding his position. He is the senior starter in the absence of David Warner, who may also struggle to get fit for Test 2 in Melbourne, while Harris has recalled after Will Pucovski was ruled out with a concussion.
"From my point of view, you can get to a point where you are pushing yourself a lot," Rogers said. "You think you're doing everything you can and it just doesn't seem to be going your way.
"You make a little mistake and all of a sudden you're back sitting in the pavilion. Most of the time it's about letting go, what will be will be and just going out and doing your processes, doing your routines and just trying to stay in the moment and see the ball as I know our Australian coach says.
"So it's a pretty simple message. There is probably a lot of noise in their heads at the moment, but the best thing they can do is go out and worry about the next ball."
The Indians were ahead enough to have declared and put Australia's potential opening pair against the pink ball. Rogers was a bit surprised they didn't take the opportunity to increase the pressure, but they also understood what they were trying to get out of the game.
"They are probably quite relieved not to get caught under the lights," he said. "That would have been a challenging period.
"They [India] they're looking to get different things out of the game and hitting under the lights was probably gold for them too, the experience they get.
"Maybe another day they could have thought 'we will declare and have a shot with two potential starting hitters for Australia in challenging conditions. But that was their decision.
"But I know that as a starting hitter I definitely wouldn't have wanted to be out there tonight."
Andrew McGlashan is deputy editor of ESPNcricinfo