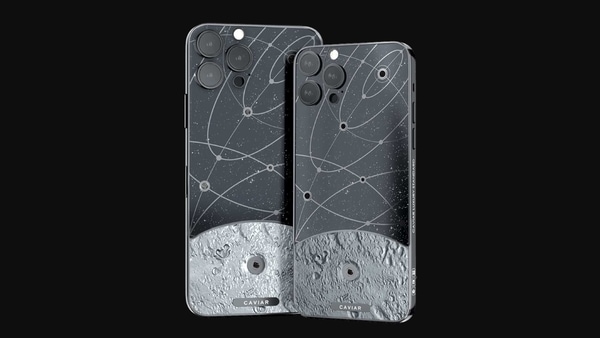 Caviar, one of the Russian companies that heavily customizes iPhones with premium, exotic materials and cases, seems to have set a benchmark for itself. This time he has introduced the iPhone 12 Pro and 12 Pro Max which have parts of the Moon, Mars and Mercury in them.
The luxury iPhone case maker has launched three new iPhone 12 Pro and 12 Pro Max models under its Space Odyssey series. They call it Space Odyssey Mars, Space Odyssey Moon, and Space Odyssey Mercury. While the Mars variant of the iPhone 12 Pro starts at $ 6,570, the Moon and Mercury variants start at $ 6,290 and $ 6,750. Now that becomes approximately ₹4.8 lakh, ₹4.6 lakh and ₹4.9 lakh in Indian currency. And these are just the starting prices.
Read also: These limited edition custom iPhone 12 Pros pay tribute to Steve Jobs
Higher variants of Caviar's iPhone 12 Pro Max Space Odyssey models cost $ 7,800 (Mars), $ 7,520 (Moon), and $ 7,980 (Mercury). This means approximately ₹5.7 lakh, ₹5.5 lakh and ₹5.8 lakh respectively.
All are available in 19 limited pieces worldwide.
While the front of the iPhone 12 Pro and 12 Pro Max remains the same. The sides and back are heavily personalized with premium metals. However, at the bottom of the back, you will see a small bubble in which the pieces of the Moon, Mercury and Mars are present. Of these, the iPhone 12 Pro Space Odyssey Moon was unpacked by popular YouTuber MKBHD. And he also talked about the authenticity of that piece of space materials on the back cover of the iPhone.
We also see him talking to Neil deGrasse Tyson, an American astrophysicist, if it is possible for a brand to seize pieces of the Moon, Mercury and Mars and sell them.
Turns out, you can actually buy the meteorites and sell them too. Even Caviar's list states that these pieces were obtained from the meteorite fallen from the Moon, Mercury and Mars to Earth. According to Tyson, since you can buy and sell pieces of rock and meteorite from space, these iPhones may have the actual pieces of Mercury, Mars, and the Moon on the back.
Buy one?