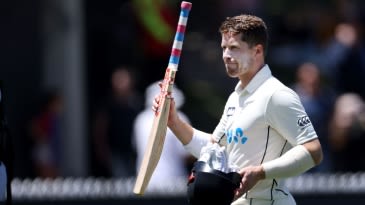 West Indies 42-for-4 (Brooks 8 *, Blackwood 12 *, Jamieson 2-4, Southee 2-14) New Zealand 460 (Nicholls 174, Wagner 66 *, Gabriel 3-93, Joseph 3-109) for 418 runs
Wait until both teams have thrown before judging a pitch. In this case, the old adage wasn't entirely true, because it was evident from the start of this test match that this Basin Reserve lane had everything a fast bowler could ask for: pace, bounce, sewing motion. But it took until New Zealand bowled to make it clear how difficult hitting could be, with their fast bowlers summoning two things their West Indian counterparts had failed to find through 114 working overs: swing and, most importantly, relentless, test precision. .
With Henry Nicholls extending his century overnight to 174, the best of his career, and Neil Wagner celebrating his 50th Test with a rampant half-century maiden, New Zealand made noise with 166 runs in the first 30 overs of the day to post a disheartening 460. Then Tim Southee and Kyle Jamieson took the spoils of a brilliant team effort with the new ball when the West Indies stumbled 42-for-4 for tea on the second day.
Southee searched for rhythm from his first over, spraying balls down the side of his leg or too far, and Kraigg Brathwaite only had to play one of his six balls. That turned out to be the most misleading trailer of Southee and Trent Boult's new ball masterclass. Ball after ball, the higher order of the West Indies had to calculate whether to go forward or backward, whether the ball would swing or go with its starting angle, and whether to play or go, and given the lack of time to reach Una consistent response, they often ended up bent over and feeling hesitant for the ball. Added to this are the effects of a pitch from which a ball jumped to unexpected heights.
After Kraigg Brathwaite hit an outswinger Southee to slide for the first time in the third over, John Campbell and Darren Bravo spent an agonizing 8.3 overs on the fold – the lasting image of their partnership was seeing Campbell on the ground after being hit. to the groin by a Southee Ball that swayed towards him with added momentum off the field, before Bravo caught Southee back.
Southee and Boult then gave way to Wagner and Kyle Jamieson, and there was no relief in pressure. No way. Jamieson's first over took forever to finish, but only because of how good it was. Campbell drove on a lean away from him and advanced to the second slip, before Jamieson produced the perfect first-ball yorker to throw a stunned Roston Chase.
The next two balls produced huge shouts of lbw. The first was a yorker, the other a low shot, both hitting Jermaine Blackwood and possibly from the side of the leg. New Zealand burned a review with the first, excited by the prospect of a hat-trick, and nearly burned another with the second, with the follow-up of the ball returning the verdict of the referee's decision. Yet at 29 4, who would blame New Zealand for their overexcitement?
There was no such sensation from the bowling side earlier in the day, with the West Indies hoping to keep New Zealand to a reasonable first-inning total. But Nicholls, Jamieson, Wagner and a series of missed opportunities assured that they would not.
New Zealand lost two wickets in the first session, both to Alzarri Joseph, who came in immediately after the drinks break and created chances with his angle from afar. Jamieson moved on to the second slip, and Southee kept playing, as did BJ Watling on the first day, while being squeezed for space for angle and extra rebounding.
On either side of that, it was all New Zealand though, with Nicholls adding just 43 to his score overnight during the session, but keeping the lower order together and shutting out the West Indies entirely from one end. The luck that defined her hitting on day one seemed to continue as she edged Shannon Gabriel past her stumps early in the morning, but she became increasingly fluid thereafter, picking up frequent singles and doubles in the outfielders' draw. deep on both sides of the field. wicket, and displaying some attractive strokes as well, none better than a Joseph on-drive that was split between middle and midwicket.
For the first hour, Nicholls had the company of Jamieson, whose eye, solid fundamentals, and height thwarted another Test attack – he came into this inning with scores of 44, 49, and 51 * in his previous three innings at this level, with West Indies looking for the right lengths to jump into it. He looked strong on the drive and smooth on the short ball, and it took until the first over after drinks for Joseph to find the right length, straightening out a delivery that tested Jamieson's tendency to push balls up.
Three overs before that, Jason Holder had created another opportunity by inviting a back foot strike away from the body, only for John Campbell to knock Jamieson down on the second slip. It was the first of three lost sacks in the session; Chemar Holder and Roston Chase then dropped Wagner in successive overs, both on thin legs, against Gabriel and Joseph respectively, when he was 20 and 21 respectively.
There was definitely some logic in the West Indies short ball plan for Wagner, as evidenced by those missed hooks and a failed play by Joseph that earned him a hit to the back of the helmet. But in between, runs gushed out of Wagner's bat, some just outside the sweet spot, like a Joseph six and a baseball-style hit through Jason Holder's midwicket, and some off the edge, and the West Indies lost. any semblance of control they might have had earlier in the morning.
New Zealand continued to advance after lunch, with Nicholls and Wagner unleashing powerful impulses towards the coverage limit on their way to reach their respective highest Test scores. Wagner took his first test fifty with only 36 balls. The 95v73 partnership finally came to an end when Nicholls dived hard at Chase's deflection and was brilliantly caught by a Brathwaite swooping in a short extra-coverage. Then Boult came in and dropped the third ball to another dive catch, Shamarh Brooks at midwicket, but not before hitting Chase for a first six-ball on a long pitch.
Karthik Krishnaswamy is a senior deputy editor at ESPNcricinfo