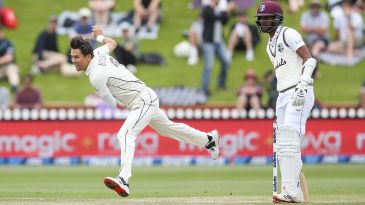 Report
Tim Southee completed a five for early in the morning to close out a 329-run lead
Tea West Indies 131 (Blackwood 69, Southee 5-32, Jamieson 5-34) and (f / o) 158 x 5 (Campbell 68, Blackwood 16 *, Holder 10 *, Jamieson 2-33, Boult 2-49) New Zealand 460 for 171 runs
New Zealand needs five wickets to close out its second consecutive win in innings and strengthen its chances of appearing at the World Test Championship with a total of 120 points from this series. Improving batting conditions and an 89-run tier in the third wicket between John Campbell and Shamarh Brooks were only minor impediments to New Zealand after they caused the West Indies to follow once again, and by tea of ​​the third. day they were at the last recognized hitting of the visitors. pair.
Tim Southee took the last two wickets of the first inning within the first five overs of the day, completing his five-wicket course and finishing with a 329-run lead. There was less sewing movement to work with when the West Indies hit again, but New Zealand's fast pitchers are used to pitches at home that improve in the second half of test matches.
All four continued to swing the ball even past the 40-plus mark, varying their lengths and angles cleverly to play with the batters' footwork, and using the short ball for a purpose. Trent Boult got them two early breakthroughs, and after Campbell and Brooks resisted the fast bowlers search test for 23.1 overs, Neil Wagner and Kyle Jamieson broke into the middle order to leave the West Indies down five in the tea, still behind by 171.
Southee and Boult caused Campbell and Kraigg Brathwaite moments of discomfort with their control and new-ball swing, but the starters overcame it and seemed on a better pace than in the first inning while shooting 37 of 11 overs. Boult then found success working out a plan, targeting Brathwaite's tendency to launch himself into the air without putting his weight on his front foot. A full ball in the stumps flew to Will Young's left, parked in the leg ravine for that kind of shot, and he completed a surprising low reception with a full dive.
Three balls later, Boult struck again, a malicious short ball that reared into Darren Bravo's face. He raised his hands reflectively to protect himself and put the ball with a glove into the ravine.
Campbell and Brooks survived until lunch, and then into the middle of the second session, never quite comfortable, but they found a way to stay inside. Campbell slipped out of his crease to counter the late swing and became more confident on his footwork. as their entries progressed. He put his weight forward as the ball was thrown upward, bending his front knee fully as he drove Jamieson through the sheets shortly before lunch, and later, when Wagner looked to test it with the short ball, he threw it in fours. successive until their fifties.
All four shots came halfway through an absorbing 12-on spell from Wagner, who, instead of using the short ball as his original weapon, as he normally does, mixed them with a longer swing. Soon after, Brooks also went after him, with mixed results, taking him to three fours in the space of two overs, but he was also hit multiple times on the outside edge while playing for a non-existent swing. On one of these occasions, the angle of the left arm went over the closed face of Brooks' bat and hit the back pad, causing a massive lbw appeal. It wasn't given, with Chris Gaffaney likely acknowledging that the ball could have thrown off the stump of the leg or that it could have passed or left the stump.
New Zealand didn't review, they had only used one for a catch appeal when Southee grazed Brooks's thigh pad with an outwinger, and ball tracking suggested the ball was thrown in line and would have hit the top of the stump.
The excited Wagner was quick to get revenge on Brooks. After being driven to the edge of the coverage point, Wagner pulled a ball that went up a long way and went with the angle through the right. Brooks played forward on defense, looking to swing, and got away from the shoulder of his bat.
Having created this opening, New Zealand stormed through it, as Jamieson picked up two in the space of two overs. He first got one to straighten and bounce down the hall for Roston Chase to make a cut on the second slide to complete a pair. Then Campbell kept playing while squeezed for space and hitting with an angled bat.
At tea, Jermaine Blackwood and Jason Holder were on the fold, both looking to play their shots in a partnership of 24. If the West Indies are going to extend this game to a fourth day and / or fourth inning, these two will have a lot of work to do. to do.
Karthik Krishnaswamy is a senior deputy editor at ESPNcricinfo