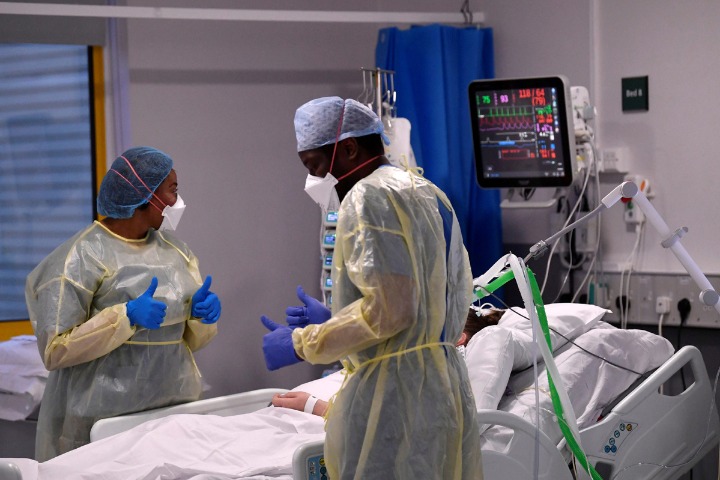 Move to better understand immune system response, help design vaccines
People who have recovered from COVID-19 disease will be deliberately re-exposed to the new coronavirus that causes it in medical trials starting this week in the United Kingdom.
The so-called challenge trials, led by Oxford University, will look at how much protection people have against redefinition, and against the recurrence of the disease.
The Reuters news agency said the study, which began on Monday, is different from challenge trials approved in February by a medical regulator, which are being conducted by Imperial College London because they include people who are not infected with the virus before.
Reuters quoted Helen McShane, a University of Oxford vaccine researcher and lead researcher on the latest study, as saying: "The information from this work will allow us to design better vaccines and treatments, and also to understand if people are protected against after COVID, and for how long. "
He said scientists also hope to understand what immune responses protect against redefinition.
Researchers will begin by seeking the lowest dose of new coronavirus needed to cause an infection in a previously infected person.
They hope that by establishing the level of antibodies needed to combat redefinition, they will open the door to vaccine approval more quickly, because vaccines that trigger an immune response at the indicated level are known to be adequate.
The first phase of the Oxford trials will involve up to 64 healthy participants aged 18 to 30 who had COVID-19 at least three months before being given low doses of the virus. The second phase, which will take place during the summer, will result in people receiving larger doses.
The Times newspaper reported that participants each earn 5,000 pounds ($ 6,900) for participating. They will have to spend 17 days in hospital and have regular follow-up appointments for 12 months.
Previous observational studies have suggested that very few people previously infected with the new coronavirus test positive for COVID-19 disease.
McShane said on Radio 4's Today program that he is confident that participants will not be at serious risk, and will not run the risk of developing a prolonged COVID.
"To the best of our knowledge, we think the risk of that is very unlikely," he said. "And that is because these people have already had one COVID infection, where they completely recovered from it."
The Times newspaper quoted Chris Chiu, the professor leading the Imperial College London challenge trials, as saying that the two pieces of research should combine to show "how redefining differs from a first infection with this virus," which could have important implications for how the pandemic is managed going forward ".
The BBC said participants in the Oxford trials, funded by the Wellcome Trust, will be exposed to a laboratory-grown virus that is the same as the original strain of a new coronavirus.
Challenge trials have previously been used to increase scientists' understanding of other diseases; including cholera, influenza, malaria, and typhoid.