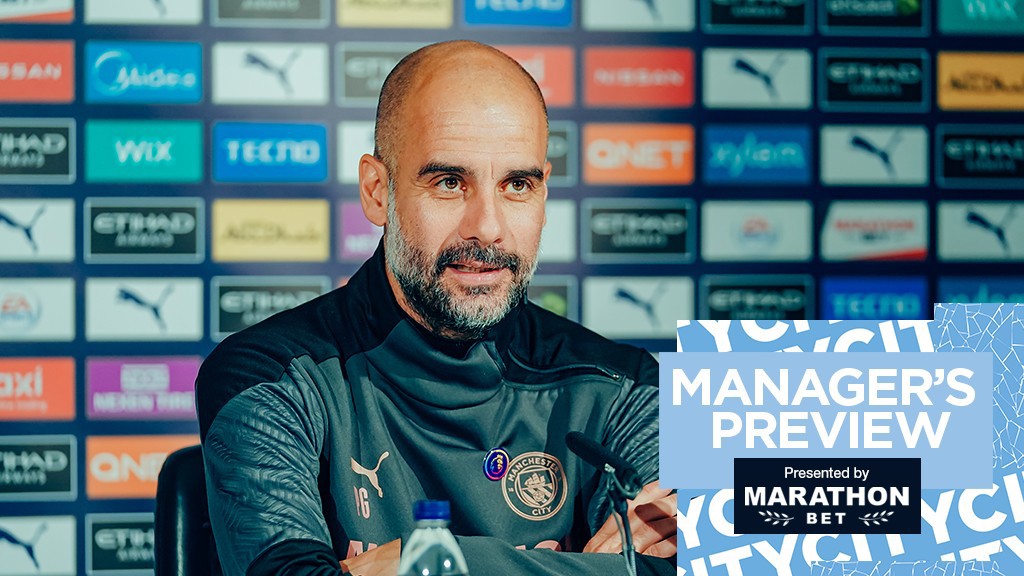 Ilkay Gundogan has trained ahead of Saturday's Manchester Derby, but Eric Garcia will miss the trip to Old Trafford due to injury.
Both players were substituted after taking blows in a 3-0 win over Marseille in the middle of the week and, while good news for Gundogan, Pep Guardiola has confirmed that Garcia will be absent for several weeks.
SUBSCRIBE TO THE MAN CITY PODCAST
"Eric is not in shape," he said at his pregame press conference.
"He will be out for two or three weeks. Ilkay trained well. "
Guardiola also reiterated that Sergio Agüero, who scored on his return from injury against Marseille, is not ready to start against Manchester United.
The City manager said that would be the case after the Champions League game and revealed that it remains the case on the eve of the big game.
With the vast majority of his squad available to face Ole Gunnar Solskjaer's men, Guardiola has many selection decisions to make.
It's a stark contrast to the early part of the season, when City were plagued with injuries and the boss says the competition for places means their players must be able to show they are ready to play.
"Except for two players, the others are in good shape," he added.
"With this ridiculous rule, not everyone can be on the bench, so the players have to be prepared every week because there are guys waiting to be on the team."
Saturday's game will be Manchester's first derby without fans.
Despite his absence, Guardiola feels that City supporters will continue to be a part of the occasion, as he praised their loyalty, although he admits it will be one less occasion without them.
"Of course they are," replied the coach when asked if fans would still feel involved.
"Our fans have always been, United too. Especially in England, the fans are very loyal.
"It's much better to be at Old Trafford and Etihad Stadium with the fans. Step by step we will open stadiums in England, here in Manchester not yet.
"But when the officials say we can take the next step, we will and when everyone is settled, the fans will be back."
We will have full coverage of the Manchester Derby right here on ManCity.com.
Our Matchday Center will begin at 3.30pm, with text updates throughout the day, which means you won't miss a beat.
Our game day live show We're Not Really Here begins at 4.30pm, with Shaun Goater, Gareth Barry and Michael Brown joining us in the studio.
And CITY + subscribers can enjoy a full 90-minute replay starting at midnight. Enjoy your first month of CITY + for free. After that, CITY + costs £ 1.99 a month.
Learn more and register here.
CITYZENS: LINEUP PREDICTOR – Lineup Predictor_United v City PL 20 / 21_All