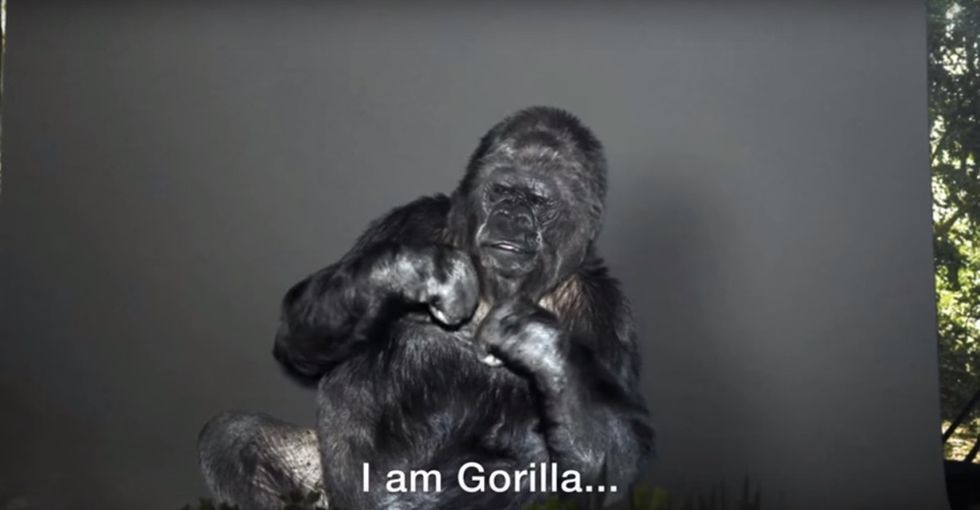 Before I could turn and run, the doors opened. I was caught off guard as 80 pregnant faces turned to look at me. I scanned the crowd. I saw my family and friends. I saw my father and stepfather waiting in front of the altar to give me away. But I was going to have to walk down the aisle on my own, and that's not how it was supposed to be.
I don't know how long I paused there. I felt like I couldn't move.
Then my eyes found my future husband, Joe. And right next to it, I saw a single candle burning on tall candelabra. Gulp. I looked back at Joe and decided that if I could make it down the aisle for him, I'd be fine.
I felt as if my knees were buckling, but somehow I started walking. It was surreal. I felt like I was floating, but in the end I made it down the aisle.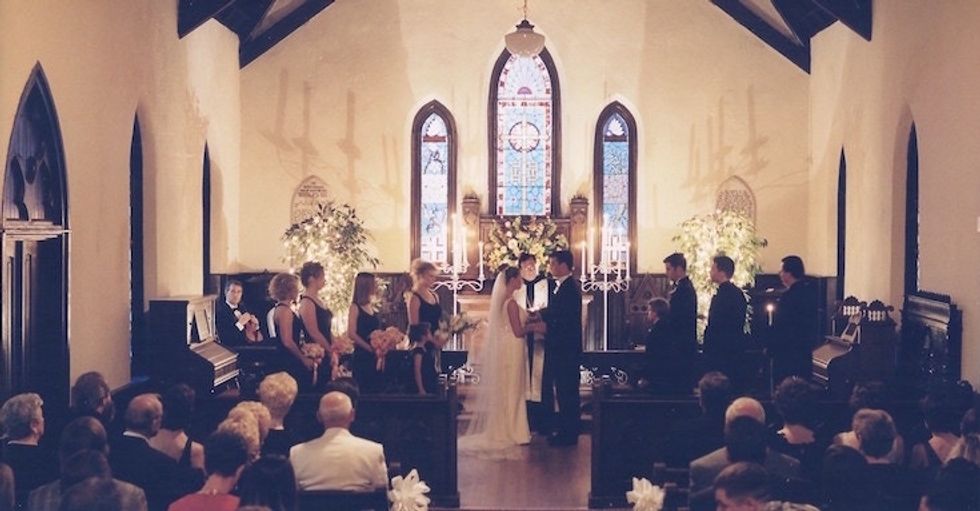 18 months earlier, my 16 year old brother was diagnosed with rare pediatric bone cancer.
The diagnosis was serious. The prognosis was not good. He was quick to rally. He was going to be fine. He was going to live his life. He was still planning a future. He packed a lot of living in a short time.
10 days before my marriage, he lost his battle.
Now, I look back and I don't know how my family and I made it through funeral and marriage in such a short space of time, but we did. Deferral of the marriage would not be as I suggested. E.a very single member of my family told me in uncertain terms that my brother would never want me to delay it. He always said he had "no time for cancer." He didn't let it stop him from doing the things he wanted to do, and he would be very pissed if I let cancer stop my marriage.
So while we were still in a state of shock, we had a wedding. There were tributes to my brother throughout the wedding, including the single candle that stood where he was supposed to stand as a groom. We read a beautiful poem in his memory during the ceremony. We played her favorite song at the reception. And we danced. And we drank. And, inexplicably, we had fun.
15 years have passed since that day.
15 years and I'm still trying to find out how to move through life without it. 15 years and I'm still learning about how this "after part" works.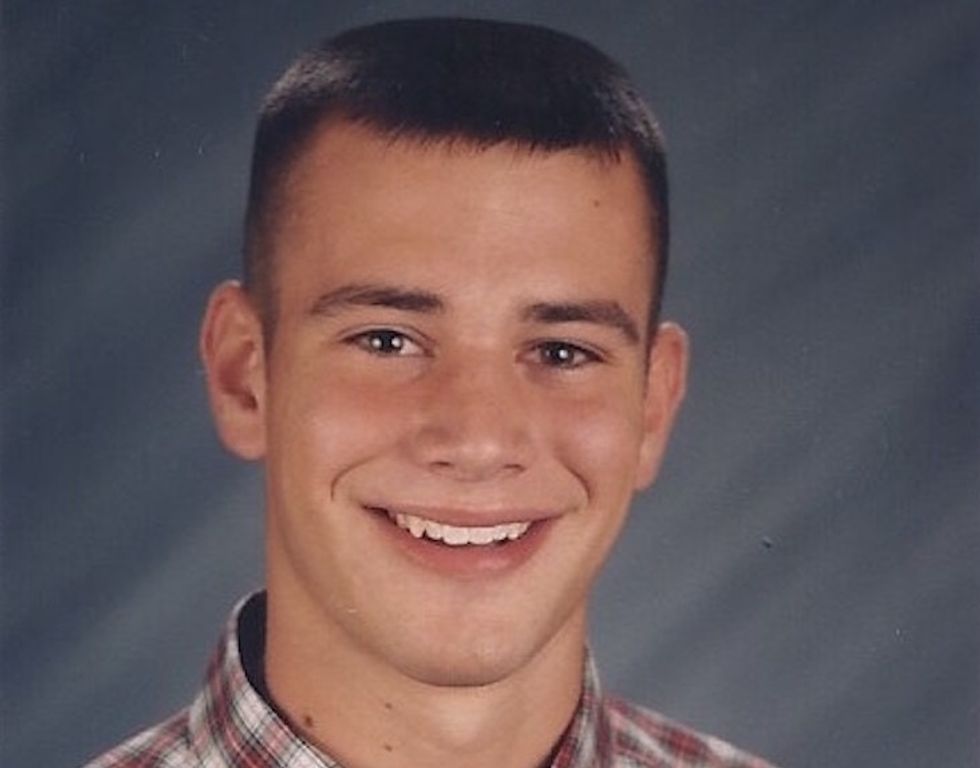 I would gladly trade the things I've learned to get my brother back, but I learned a long time ago that bargaining doesn't work. So I usually choose to value the lessons I've learned instead.
1. I've learned to cut some extra slack for people.
You don't really know what people are going through. You do not know what they have suffered. You don't know what battles they might be fighting.
There were times during my brother's illness when I would find myself driving 15 mph in the left lane. I would be lost somewhere between grief and fatigue, and would arrive home with no idea how I arrived. There were times when I would look up in the grocery store, only to realize that I had been standing in the middle of the aisle, lost mind, for 10 minutes.
I used to be the person who honed impatiently and threw dirty looks as I zoomed past a slow driver, but not anymore.
Now I know what it's like and to tell the truth having a bad day, to be so lost in a world turned on your head that you are completely unaware of your surroundings. I learned that we all have bad days. Some of us have really bad days. Most of us are trying to get to tomorrow.
2. I have learned that true compassion and grace are about suppressing judgment.
Over and over again, I saw that real compassion gives people the benefit of the doubt: giving them access, helping them when you don't know them, being patient and kind even when you don't know what they are going through .
If you have to know behind the scenes? If you have to know their story in order to be kind? If your kindness is based on an assessment of their pain and is it conditional? Then it's not really kindness; it's just an opinion.
I have not had this before. I wasn't cruel, and I wasn't full of spirit, but I was impatient and easily irritated. That was before I realized the depths that people can get trapped in while still looking completely normal to the rest of the world.
3. I have learned that comfort sometimes comes from unexpected places.
There are people who had a huge impact on me, who helped me through difficult times, and probably do not even know the significance of their actions.
Sometimes, for me, it was the soft-spoken coworker who offered me a hug as I was leaving to meet my family in hospital. He was shy and reserved, but he wrapped me in a big bear hug when I was overcome by emotion. I knew that this small gesture was not easy for him to give, but his effort was to offer me comfort.
In another moment, that comfort came from my brash, tall boss, who let me take as long as I needed to be with my brother in the hospital. On another occasion, it was my friend from work who reassured me calmly that I would feel joy again after I had confessed my fear and pain to her. And often, comfort came from my husband's brother and sister-in-law, who drove 12 hours to attend my brother's memorial service.
I learned that an act of kindness, no matter how small, is never wrong. Sometimes this is the thing that can help someone put one foot in front of the other.
4. I have learned that, even 15 years later, I can still be blinded by the cruel reality of it all.
Sometimes, I sit in my child's swimming practice when memory beats the wind. Next thing I know, I'm wiping away tears and hoping no one notices.
Sometimes I eat lunch at a restaurant and the waiter might look just like my brother. I will feel the loss and pain take over and overwhelm me. And in these moments, I'm always amazed at the cruel power of grief's ability to blind me.
Sometimes I see it when my children are doing something particularly wicked, and my thoughts are unwillingly fluttering into images of my brother, to memories of little boy objects long ago.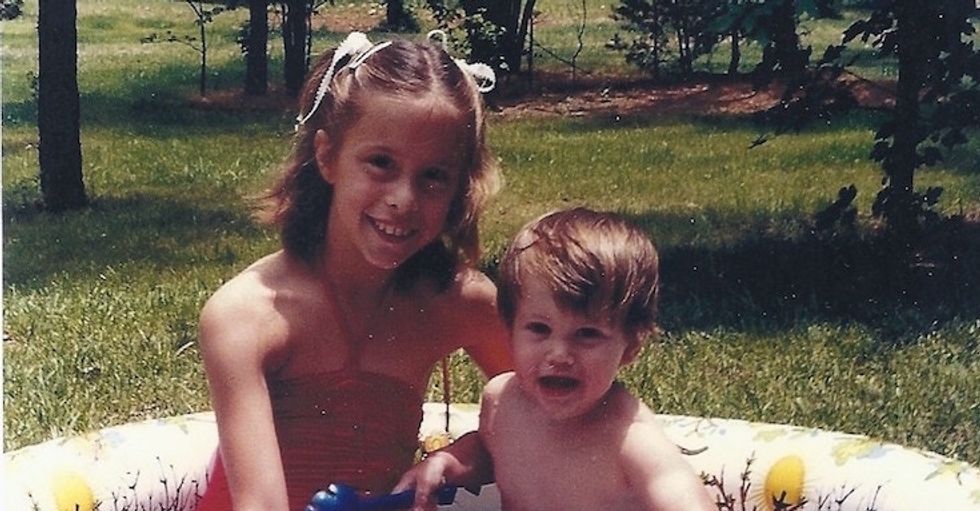 Then I begin to imagine what it could have been: he grabbed them, encouraged their agitated behavior. And I could almost hear him laughing, enjoying every moment of finding a way to torture me as an adult as he did as a toddler.
You can bottle yourself up and try to isolate yourself from it, but let me tell you: It doesn't disappear, so you might as well let it happen. Y.you will feel it, you will hurt, but I have learned that you will be fine too. You'll be fine.
5. I have learned that I will probably feel my brother's presence forever.
I will still see him in all of my kids, in their personalities, in their senses of humor, and that was my brother's name for him.
I will still feel it when my family is together and my sister and my parents laugh and we give each other a hard time. I often feel the hair on the back of my neck stand up. I feel a warmth coming over me, a warmth hard to describe because it's unlike any feeling I've felt before.
And I hope I keep feeling it, forever, kicking me in the ass when I'm about to chicken out on doing something that scares me. I could almost hear what he would tell me in those situations: Don't give up. You're better than that.
I have learned to recognize these moments, when I feel it with myself. They are bitter. They are welcome. And they tear my heart because they'll never be enough.
6. What I have realized most of all, after all these years, is that my brother did not need to be replaced.
When we knew, in recent weeks, that he couldn't walk me down the aisle, I thought of other options. But in the end, I decided there was no undergrowth, and no last minute stand-up. We can't imagine replacing him in that role.
And as always, even though my brother wasn't physically there, he showed up. He kicked me in the ass a little and told me not to be scared. He reminded me that I didn't have time to let my pain stand in the way of my marriage, my happiness.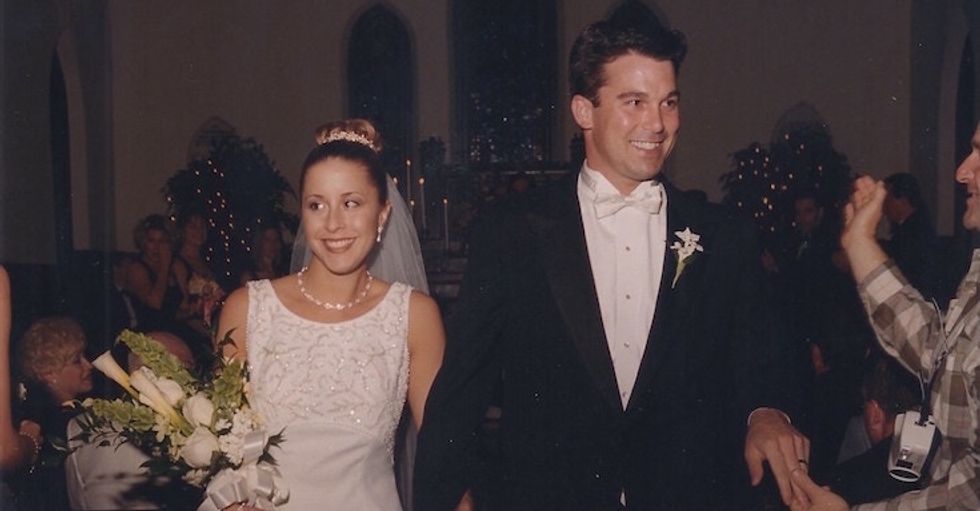 In the end, my brother was still there with me on one of the best days of my life because he had always been.
Continue Reading
Show less
window.REBELMOUSE_TASKS_QUEUE.push(function(){
function menuClick(e) { e.preventDefault();var x=document.getElementsByClassName('navbar-wrapper')[0]; document.getElementsByClassName('menu-wrapper')[0].classList.toggle("openz");
if (x.style.display === "block") {x.style.display = "none";} else {x.style.display = "block";}
var homeContainer = document.getElementsByClassName('content-page-wrapper'); if (homeContainer[0] != undefined) { homeContainer[0].classList.add('background-opacity'); }
var adPlaceholder = document.getElementsByClassName('ad-placeholder'); if (adPlaceholder[0] != undefined) { adPlaceholder[0].classList.add('background-opacity'); }
var followUs = document.getElementsByClassName('follow-us-wrapper'); if (followUs[0] != undefined) { followUs[0].classList.add('background-opacity'); }
// document.querySelector('.topbar-wrapper .image-element').classList.add('background-opacity');
var opac = document.querySelector('.content-page-wrapper.background-opacity'); opac.addEventListener("click", menuCloseClick);
var scrollPosY = window.pageYOffset | document.body.scrollTop;
setTimeout(function() { var topbarPanel = document.querySelector('.js-hidden-panel.active'); if (topbarPanel != null) { document.getElementsByClassName('navbar-wrapper')[0].style.marginTop = '121px'; } else if (scrollPosY <= topMarginForAd) { document.getElementsByClassName('navbar-wrapper')[0].style.marginTop = '-'+(topMarginForAd - scrollPosY-6) + 'px'; } else { document.getElementsByClassName('navbar-wrapper')[0].style.marginTop = '14px'; } }, 100); } function menuCloseClick() { document.getElementsByClassName('navbar-wrapper')[0].style.display = 'none'; document.getElementsByTagName('body')[0].style.overflow = 'unset'; var homeContainer = document.getElementsByClassName('content-page-wrapper'); if (homeContainer[0] != undefined) { homeContainer[0].classList.remove('background-opacity'); } var adPlaceholder = document.getElementsByClassName('ad-placeholder'); if (adPlaceholder[0] != undefined) { adPlaceholder[0].classList.remove('background-opacity'); } var followUs = document.getElementsByClassName('follow-us-wrapper'); if (followUs[0] != undefined) { followUs[0].classList.remove('background-opacity'); } document.querySelector('.topbar-wrapper .image-element').classList.remove('background-opacity'); } function addMenuClickListener() { var menuArrow = document.getElementsByClassName('menu-wrapper'); menuArrow[0].addEventListener('click', menuClick); } addMenuClickListener(); }); window.REBELMOUSE_TASKS_QUEUE.push(function(){ function fbvideoID(frame) { var myRegexp = /2F(d+)%/g; var match = myRegexp.exec(frame); return match[1]; } var fbIframe = document.querySelector('iframe[src^="https://www.facebook.com/plugins/video.php?"]'); if (fbIframe) {fvVidID = fbvideoID(fbIframe.getAttribute('src')); if (fvVidID) { fbIframe.insertAdjacentHTML("beforebegin", '
'); // fbIframe.parentNode.removeChild(fbIframe); } } var videoId = "promoted-video"; var oldFacebookVideo = document.getElementById(videoId); if (!oldFacebookVideo) { return }; var facebookVideoPost = oldFacebookVideo.closest(".widget"); if (!facebookVideoPost) { return };
var facebookVideo = facebookVideoPost.querySelector("#" + videoId); facebookVideo.classList.add("fb-video"); var firstPost = document.querySelector(".widget.post-partial");
function onScriptLoad() { FB.init({ appId: window.REBELMOUSE_BOOTSTRAP_DATA.fbId, version: window.REBELMOUSE_BOOTSTRAP_DATA.fbAppVersion, status: true, cookie: true, }); FB.XFBML.parse(); if(fbIframe){ fbIframe.parentNode.removeChild(fbIframe); } }
function loadFacebookScript() { var existingScript = document.querySelector('script[src="https://connect.facebook.net/en_US/sdk.js"'); if (!existingScript) { var script = document.createElement("script"); script.src = "https://connect.facebook.net/en_US/sdk.js"; document.head.appendChild(script); script.addEventListener("load", onScriptLoad); } }
function intersectorCallback(video_player) { var booted = false; var totalSeconds = 0; var interval = null;
function impressionCounter() { totalSeconds++; console.log("I've been watching for " + totalSeconds + " seconds"); } return function intersector(entries) { var entry = entries[0]; if (entry.isIntersecting) { if (!booted) { booted = true; video_player.mute(); video_player.play(); } interval = setInterval(impressionCounter, 1000); } else { if (interval) { console.log("I've stopped watching at " + totalSeconds + " seconds"); clearInterval(interval); interval = null; } } }; }
function trackVideo(video_player) { var observer = new IntersectionObserver(intersectorCallback(video_player), {}); observer.observe(facebookVideo); }
function onFacebookElementLoaded(msg) { if (msg.type === "video" && msg.id === videoId) { trackVideo(msg.instance); } }
function onFacebookReady() { FB.Event.subscribe("xfbml.ready", onFacebookElementLoaded); if (window.oldFacebookWaiter) window.oldFacebookWaiter(); }
if ("FB" in window) { onFacebookReady(); } else { window.oldFacebookWaiter = window.fbAsyncInit; window.fbAsyncInit = onFacebookReady; loadFacebookScript(); }
});
window.REBELMOUSE_TASKS_QUEUE.push(function(){
REBELMOUSE_STDLIB.createElementChangeListener(".mb-2", function(item){ checkSponsoredPost(); })
});
window.REBELMOUSE_LOWEST_TASKS_QUEUE.push(function(){
var tags = [ 'https://pymx5.com/scripts/ready.js', 'https://pymx5.com/scripts/ims.js', 'https://pymx5.com/scripts/load_tags.js' ]
function l() { if (tags.length) { var tag = tags.pop(); var script = document.createElement('script'); script.setAttribute('src', tag); script.onload = l; document.body.appendChild(script); } else { window.ia = window.ia || function () { (window.ia.q = window.ia.q || []).push(arguments); } ; ia('track', 'PAGE_VIEW');
docReady(function() { ims.startServices(); } ); } }
l();
});
window.REBELMOUSE_LOWEST_TASKS_QUEUE.push(function(){
window.REBELMOUSE_STDLIB.loadExternalScript("https://ats.rlcdn.com/ats.js", function() {
ats.start( { "placementID": 103, "storageType": "localStorage", "detectionType": "scrape", "cssSelectors": [ "input[type=text]", "input[type=email]" ], "logging": "error" });
});
});
window.REBELMOUSE_LOWEST_TASKS_QUEUE.push(function(){
window.REBELMOUSE_STDLIB.loadExternalScript("https://www.googletagmanager.com/gtag/js.js?id=UA-30098361-1", function() {
window.dataLayer = window.dataLayer || []; /*function gtag(){dataLayer.push(arguments);} gtag('js', new Date());
gtag('config', 'UA-30098361-1', {'optimize_id':'GTM-P5TSK62'});*/
});
});
window.REBELMOUSE_LOWEST_TASKS_QUEUE.push(function(){
!function(f,b,e,v,n,t,s) {if(f.fbq)return;n=f.fbq=function(){n.callMethod? n.callMethod.apply(n,arguments):n.queue.push(arguments)}; if(!f._fbq)f._fbq=n;n.push=n;n.loaded=!0;n.version='2.0'; n.queue=[];t=b.createElement(e);t.async=!0; t.src=v;s=b.getElementsByTagName(e)[0]; s.parentNode.insertBefore(t,s)}(window, document,'script', 'https://connect.facebook.net/en_US/fbevents.js'); fbq('init', '1676218835946757'); fbq('track', 'PageView');
});
window.REBELMOUSE_LOWEST_TASKS_QUEUE.push(function(){
function triggerComscorePageView() { console.log('triggerComscorePageView'); window.COMSCORE && COMSCORE.beacon({c1: "2", c2: "18736521"}); fetch("https://www.upworthy.com/res/3rdparty/comscore_pageview"); }
if (typeof rblms !== 'undefined') { rblms.require(['core/event_dispatcher'], function(eventDispatcher) { eventDispatcher.on('viewRegistry:initViews', triggerComscorePageView); }); }
document.addEventListener('click', event => { if (event.target && event.target.classList.contains('show-more')) { triggerComscorePageView() } });
urlChangeHandler(triggerComscorePageView);
});
window.REBELMOUSE_LOWEST_TASKS_QUEUE.push(function(){
(function() { try{var a={l1:document.location.host.replace(/^www./,""),l2:document.title||"Untitled",l3:"__page__",l4:"-",sa:"",sn:""},b=[],c;for(c in a)b.push(c+"="+encodeURIComponent(a[c]));b=b.join("&");(new Image).src="https://d26n2uyu5tcx3y.cloudfront.net?a=5ac31c1640c74c36900b97047f570f19";var d=document.createElement("script");d.type="text/javascript";d.async=!0;var e=document.getElementsByTagName("script")[0];e.parentNode.insertBefore(d,e);d.src="https://z.moatads.com/upworthy105Vonz37/moatcontent.js#"+b}catch(f){try{var g= "//pixel.moatads.com/pixel.gif?e=24&d=data%3Adata%3Adata%3Adata&i=MOATCONTENTABSNIPPET1&ac=1&k="+encodeURIComponent(f)+"&j="+encodeURIComponent(document.referrer)+"&cs="+(new Date).getTime();(new Image).src=g}catch(h){}}; })();
});
window.REBELMOUSE_LOWEST_TASKS_QUEUE.push(function(){
(function(w,d) { w.kwa || (w.kwa = function()
{ (w.kwa.q = w.kwa.q || []).push(arguments); } ); se = d.createElement('script'), fs = d.scripts[0]; se.src="https://cdn.keywee.co/dist/analytics.min.js"; fs.parentNode.insertBefore(se,fs) }(window, document));
kwa('initialize',603);
});
window.REBELMOUSE_LOWEST_TASKS_QUEUE.push(function(){
(function(h,o,t,j,a,r){ h.hj=h.hj||function(){(h.hj.q=h.hj.q||[]).push(arguments)}; h._hjSettings={hjid:1648575,hjsv:6}; a=o.getElementsByTagName('head')[0]; r=o.createElement('script');r.async=1; r.src=t+h._hjSettings.hjid+j+h._hjSettings.hjsv; a.appendChild(r); })(window,document,'https://static.hotjar.com/c/hotjar-','.js?sv=');
});
window.REBELMOUSE_LOWEST_TASKS_QUEUE.push(function(){
window.REBELMOUSE_STDLIB.loadExternalScript("https://embed.actionbutton.co/widget/widget.min.js", function() {
window.ActionButton.whenButtonLoaded('action_button_container').then(window.ActionButton.loadButton('action_button_container','SPK-QkdERQ=='));
});
});
window.REBELMOUSE_LOWEST_TASKS_QUEUE.push(function(){
let asd=false
}); .Source